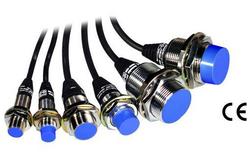 (PRWEB) October 6, 2010
Autonics Corp., a leading manufacturer of sensors and controllers in Korea and holding No.1 market share of proximity sensors in Korea for more than 10 years, introduces long-distance type inductive proximity sensors – PRD Series.
A proximity sensor detects an object when the object approaches within the detection boundary of the sensor without any physical contact. They find application in various facets of manufacturing for detecting the approach of metal objects. Various types of proximity sensors are used for detecting the presence or absence of an object. Proximity sensors are often employed in manufacturing industries in which the sensors are exposed to harsh environmental conditions.
Autonics' proximity sensors are designed to provide more reliable and cost-effective sensing solutions for various industrial automation fields like automobile production lines, etc.
Among these products, PRD Series is the best selling product that realizes 1.5~2 times longer sensing distance and superior noise resistance with dedicated IC. It also features super high-speed response time and dramatically reduced leakage current and residual voltage. Providing, improved tensile strength and durability with sensor/cable connecting part among other features.
Autonics is still endeavoring to advance product quality and sensing reliability of proximity sensors up to the top level of global marketplace.
*Major features

High reliability and long distance sensing with dedicated IC
(1.5~2 times longer sensing distance guaranteed compared to existing models)

Superior noise resistance
Leakage current: under 0.6mA, residual voltage: under 3.5V
Cable support adopted: sturdy sensor/cable connecting part (9 times improved flexural strength)
Reverse power polarity, surge, over-current protection
About Autonics Corporation (http://www.autonics.com)
Autonics Corporation, established in 1977, is a leading manufacturer of sensors and controllers in Korea and the No.1 exporting company as well. Autonics produces over 5,000 items that are marketed in more than 100 countries worldwide, satisfying customer needs in various fields of Industrial Automation.
Autonics always tries to achieve customer satisfaction with highly qualified, wide ranged products & reliable services through constant R&D efforts and quality management process. Also, Autonics concerns the environment management and does its best to meet the international needs in order to become a global IA partner all over the world.
For more information contact:
Autonics Overseas Business HQs
Tel: 82-32-610-2730
###