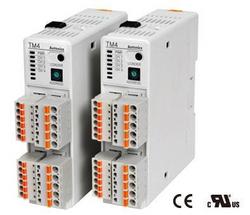 New York, NY (PRWEB) October 21, 2010
Autonics Corp.(http://www.autonics.com), a leading manufacturer of sensors and controllers in Korea and the No.1 exporting company, introduces multi-channel module type PID temperature controllers – TM Series.
TM Series realizes 4-channel(100ms) / 2-channel(50ms) high-speed controlling with superior sampling cycle. Side connector connection makes less wiring work and close mounting possible up to 31 units, 124 channels without additional power & communication wires for expansion modules. PC parameter setting and monitoring is possible via RS485 communication or dedicated USB cable. In addition, more reliable controlling can be realized thru various convenient functions.
Major features:
Multi-channel(4-channel / 2-channel) simultaneous controlling possible
High-speed sampling cycle (100ms / 50ms)
No communication and power supply for expansion modules required by using side connectors
: Max. 31 units (124 channels / 62 channels)
Input channel isolated design (Dielectric strength 1,000VAC)
Heating/Cooling simultaneous controlling
PC parameter setting via USB cable and RS485 communication (Modbus RTU)
: DAQMaster - PC loader program supported
: Dedicated USB cable - no separate power supply or connections required
Easy maintenance via connector type connection
: Sensor input connector, control output connector, power / communication connector
Multi input / Multi range
About Autonics Corporation (http://www.autonics.com)
Autonics Corporation, established in 1977, is a leading manufacturer of sensors and controllers in Korea and the No.1 exporting company as well. Autonics produces over 5,000 items that are marketed in more than 100 countries worldwide, satisfying customer needs in various fields of Industrial Automation.
Autonics always tries to achieve customer satisfaction with highly qualified, wide ranged products & reliable services through constant R&D efforts and quality management process. Also, Autonics concerns the environment management and does its best to meet the international needs in order to become a global IA partner all over the world.
For more information contact:
Autonics Overseas Business HQs
Tel: 82-32-610-2730
###