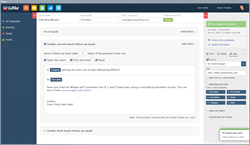 We can automate our sales process from finding leads all the way through qualifying them so that our team only interacts with the ones who are ready to buy.
SAN FRANCISCO, CA (PRWEB) June 20, 2014
Autopilot announced today the launch of CoPilot, a sales automation application that helps salespeople generate new opportunities and increase revenue, all the while decreasing the time spent managing outbound email communications and prospecting.
With CoPilot, sales teams can easily automate, track, and report on sales emails and campaigns, helping them identify top-performing emails and freeing up time to discover and engage prospects. CoPilot accomplishes this without relying on manual tasks that get in the way of sales productivity.
"Historically, sales teams relied on one-off sends or 'batch-and-blast' tools to prospect. These solutions require manual reminders that not only slow teams down, but lack reporting visibility. This makes it very difficult to know what's working, much less predict and scale the results," said Michael Sharkey, CEO of Autopilot.
Most sales prospecting tools on the market today offer little to no insight into which messages get the best response. They are one-off solutions that aren't scalable, can't be automated, and create a multitude of tasks that hurt productivity.
CoPilot is the first solution that is measurable, scalable, and automated. Whenever a prospect engages with an outbound campaign, CoPilot can automatically send a personalized response based on that person's actions. Interested prospects land directly into the salesperson's inbox while the rest continue to receive automated nurturing, giving teams more time to invest in the most engaged prospects. "We can automate our sales process from finding leads all the way through qualifying them so that our team only interacts with the ones who are ready to buy," said Ash Rust, CoFounder of SendHub. CoPilot also seamlessly integrates with Salesforce CRM, allowing sales managers to track opportunity creation and apply the best campaigns company-wide.
CoPilot leverages Autopilot's Prospect Ace, used by CloudAnt, SendHub, QuoteRoller, and thousands of other companies to identify and discover verified email addresses and demographic information. "We knew there had to be a better way to manage sales prospecting, so we created CoPilot---a way for sales teams to spend less time on tasks and workflows, and more time on what matters - engaging prospects and driving revenue," added Sharkey.
To learn more and get a free trial of CoPilot, visit http://www.autopilothq.com/copilot.
About Autopilot:
Autopilot is the first marketing automation platform built with an open software development kit that provides marketers access to the next wave of marketing technology on a single platform - without the complication of complex integrations, the involvement of IT or expensive consultants. With ease, Autopilot allows marketers to focus on strategy and execution, which leads to a higher return on investment. Autopilot's has over 3,000 users and includes customers such as Microsoft, Nokia, Bosch, SendHub, Voxer, Sol Republic, Cambium Networks, and Model N.