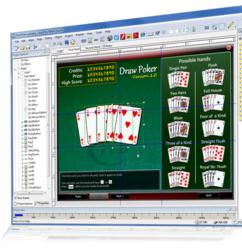 Ensuring that AutoPlay Media Studio was certified compatible with Windows 8 means that our customers have one less thing to worry about when developing their Windows apps
Winnipeg, MB (PRWEB) July 31, 2012
Indigo Rose Software announces the immediate availability of AutoPlay Media Studio 8.1 with support for Microsoft Windows 8. Known industry-wide for enabling the creation of user-friendly autorun CD, DVD and USB menus, version 8.1 combines a suite of powerful features with an intuitive approach to development.
Software developers can now use AutoPlay Media Studio 8.1 to make full-featured software applications in record time. Typical development times of weeks using traditional development tools like C++ and Java are greatly reduced by AutoPlay Media Studio's intuitive visual design environment.
While AutoPlay Media Studio 8.1 uses the product line's signature drag-and-drop approach, this does not mean a trade off in the sophistication of its available functions. Even beginners can create Windows software with advanced features such as web interaction, dialog boxes, data visualization, database connectivity and multimedia audio and video playback. Additionally, a straightforward yet powerful scripting language gives developers the control they need to fully customize their software designs.
"Indigo Rose is excited to release this new version of AutoPlay Media Studio," said Colin Adams, President of Indigo Rose Software. "Ensuring that AutoPlay Media Studio was certified compatible with Windows 8 means that our customers have one less thing to worry about when developing Windows apps."
Developers create their apps by dragging and dropping their objects onto a page or dialog box. They can then edit and customize the objects' properties to the exact specifications of their project. AutoPlay Media Studio 8.1 includes a host of built-in interface objects to choose from such as buttons, images, menu bars, PDF viewers, data grids, QuickTime videos, web browsers, checkboxes and more.
AutoPlay Media Studio 8.1 offers over 865 easy-to-use scripting actions with choices ranging from database queries, to XML parsing, to web server interaction, to Internet file transfers and more. Plugins and code modules can easily expand the language if desired. A professional script editor facilitates the scripting with convenient code completion, color syntax highlighting, as-you-type action prototypes, function listings, and even context-sensitive help.
Those who don't want to code at all can use the Action Wizard, which automates the entire scripting process. All the developer needs to do is choose an action from a categorized list and then fill in the information fields. The Action Wizard handles all the coding behind-the-scenes automatically, which allows even those with no programming experience to create sophisticated autorun menus.
Other highlights of AutoPlay Media Studio include a Lua 5.1 scripting engine, application styles/skinning, Blu-ray disc burning, integrated database access (MySQL, SQLite3, ODBC, Oracle), rolling code data security, improved debugging features, and dozens more.
AutoPlay Media Studio 8.1 is compatible with Microsoft Windows 8, Windows 7, Windows Vista and Windows XP. The software sells for $295 (USD) per developer (or $795 for the 5 developer Team Pack) and can be purchased from most software development tools vendors or online at http://www.indigorose.com/buy-now/. A free trial version is available for download.
About Indigo Rose Software Corporation
Privately held, Indigo Rose Software has been developing innovative software products and multimedia authoring tools since 1991 that are used by thousands of corporate, government and ISV customers around the world. Indigo Rose is headquartered in Winnipeg, Canada, and can be found on the Internet at http://www.indigorose.com.