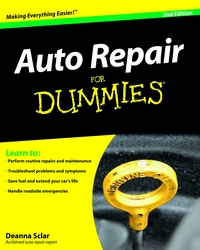 more than a publishing phenomenon, but a sign of the times
Hoboken, NJ (PRWEB) November 14, 2008
For the growing number of automobile owners participating in do-it-yourself repairs, Auto Repair For Dummies® now includes even more ways to cut costs on fuel, general maintenance and minor repairs, as well as important advice on reducing a vehicle's impact on the environment and understanding safety systems that protect passengers on the road.
Auto Repair For Dummies, 2nd Edition (Wiley Publishing, Inc., 978-0-7645-9902-6, $21.99) by acclaimed auto repair expert Deanna Sclar, teaches readers how to understand, care for, and troubleshoot a vehicle or choose a new, more efficient, and safer one. It covers basics like how to open the hood, use a jack and change a tire safely, as well as new information on alternative fuels and alternatively fueled vehicles that reduce dependence on fossil fuel.
The book features a Dictionary of Acronyms and a Practical Glossary that provides explanations of automotive terms and advice about them, a Maintenance Record for a history of maintenance and repair that's useful to mechanics and to prospective buyers when it's time to sell or trade in a vehicle, and more. In addition, an "Eco-Logic" icon found throughout the book alerts readers to tips on saving fuel, cutting air pollution, recycling parts, and safely disposing of toxic substances.
With increased attention to fuel economy, it's easy to forget that one of the most important issues is safety. Those driving older vehicles that lack many vital safety features should consider purchasing newer, safer, models. Auto Repair For Dummies, 2nd Edition, describes the most important safety features that are currently available or will be in the near future--from proper seating to avoid air-bag injuries, to side impact protection, navigation and tracking systems, backup cameras and sensors, and traction, stability, and rollover control systems.
The book also includes instructions for the always important "Monthly Under-the-Hood Check," because spending 15 minutes a month checking under the hood can prevent 70 percent of the problems that lead to highway breakdowns and extend the life of a vehicle.
About the Author
Deanna Sclar is an acclaimed auto repair expert and consumer advocate. She has appeared on hundreds of radio and TV shows including NBC's Today Show and the NBC Nightly News. Sclar lectures on the ecological impact of vehicles and is active in promoting residential solar energy programs. She is also the author of Buying a Car For Dummies.
Auto Repair For Dummies,® 2nd Edition
By Deanna Sclar
ISBN: 978-0-7645-9902-6 / $21.99 U.S. / November 2008
To see all For Dummies titles, visit http://www.dummies.com.
About For Dummies®
With near universal name recognition, more than 200 million copies printed, and over 1000 topics, For Dummies is the world's bestselling reference series. With loyal customers around the globe, For Dummies enriches people's lives by making knowledge accessible in a fun and easy way. Described by the New York Times as "more than a publishing phenomenon, but a sign of the times," For Dummies span every section of the bookstore, covering everything from health to history, music to math, sports to self-help, technology to travel, and more. The For Dummies brand has expanded into new products and categories with an extensive licensed product line, including fitness and hobby DVDs, grilling kits, business software, cleaning products, automotive kits, craft kits, and apparel. For more information, visit Dummies.com. For Dummies is a branded imprint of Wiley.
###