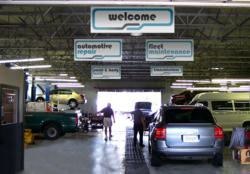 2 Year Unlimited Parts and Labor Warranty on All Services
Orlando, FL (PRWEB) September 10, 2012
City Garage has reason to celebrate, and they're certainly doing it big.
The local full service shop, who does transmission repair in Orlando – as well as engine repair, brake service, AC repair service, and a whole host of automotive and transmission services – has seen the fleet maintenance side of their business take a giant leap with the addition of Culligan Water to their roster of high-end corporate clientele.
City Garage has been entrusted with Culligan's International fleet of trucks. Reasons cited for Culligan's choice of City Garage include, consistent reliability, better pricing than dealers, consistency in pricing, and free diagnostics (unlike other shops who do transmission repair in Orlando).
In a show of appreciation, City Garage is offering the Culligan corporate discount to all employees of Culligan Water for automotive and transmission repair in Orlando.
The influx of new business coincides with the rollout of the new website for City Garage Transmission & Automotive Repair. Current customers – many who have been long-time clients and personal friends for many years – who were using the site as a contact portal may notice that the website facelift includes the addition of new auto repair coupons, including $150 off major repairs for new customers. The new website is now a great resource checkpoint for auto repair services and special discount offers in Orlando.
Alongside the announcement for the new site is a Facebook campaign offering free oil changes to anyone who likes the City Garage Facebook Page. New fans to the page can scroll down the page for an active link to the free oil change promotion, or they can click on the "FREE Oil Change" button along the top of the information area next to Photos, Likes, and Map. The promotion and website are a reflection of the company's standard of excellence and its dedication to providing the best service and best prices on transmission repair in Orlando, along with engine repair, brake service, and car repair for all makes and models.
About the Company:
City Garage Transmission & Automotive Repair is a leading auto repair facility in Orlando, Florida. They offer a variety of services for all makes and models of cars and trucks, including transmission repair, engine repair, and brake service in Orlando, for both individuals and corporate fleets. City Garage is available 24/7 with towing and shuttle pick-up or drop-off.