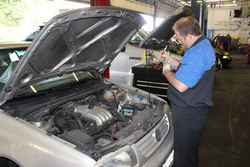 I care about our local community. I would like our children to grow up in a world that is safe and clean.
Tacoma, WA (PRWEB) October 13, 2010
Courtesy Goodyear Auto Service and Tire of Tacoma, a Tacoma auto repair shop, is leading the Tacoma auto repair industry by example with its commitment and dedication to environmental responsibility. The auto service and repair industry generates waste that, if not properly disposed of, can harm the environment. Courtesy Goodyear's owner, Scott Welsh, is acutely aware of this fact, and that's why his Tacoma auto repair business is committed to disposing of this waste in a safe and ecologically conscious manner.
"I care about our local community," affirms Scott Welsh, "and I would like our children to grow up in a world that is safe and clean. Sure, it's important to my family that I make a living, but if I am damaging the environment by making that living, I am ultimately not providing the best future for them, and that is really what I am working for."
The typical waste generated by a Tacoma auto repair center includes old tires, antifreeze, oil, oil filters, and many other automotive products. Many of these substances, such as antifreeze, are hazardous to the environment if not disposed of properly. Courtesy Goodyear practices responsible and safe automotive waste management to counteract these hazards. "We train all of our employees to handle accidental spills with a pre-planned spill response program." Says Welsh. "We are also certified with the Pierce County Health Department as a member in good standing of the South Tacoma Ground Water Protection District." As an environmentally conscious business providing auto repair in Tacoma, Courtesy Goodyear heats its facility with some of its waste oil, and separates and recycles the rest of the used oil and oil filters, as well as other recyclable items.
Some Tacoma motorists tend to perform basic automotive maintenance like oil changes on their own. Many of these Tacoma vehicle owners do not have the resources to properly recycle the waste that is generated from this maintenance. To minimize any harmful impact to the environment, 'green minded' consumers can bring their vehicles to a Tacoma auto repair shop like Courtesy Goodyear that is committed to ecologically responsible practices.
About Courtesy Goodyear Auto Service and Tire of Tacoma:
Courtesy Goodyear is a full service Tacoma auto repair shop dedicated to providing the best auto service in Tacoma with quality workmanship, high performance materials, and professional, friendly customer service. It is an ASE Certified business and a certified Gemini Automotive Care center, providing national warranties for many of it's services. Courtesy Goodyear uses state-of-the-art diagnostic tools and equipment, and prides itself on maintaining a clean and environmentally friendly facility.
For more information, visit: http://www.goodyeartacoma.com
Address:
4502 S. Steele St. #701
Tacoma, WA 98409
# # #