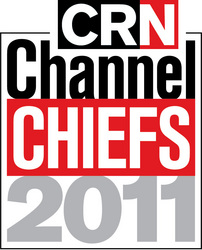 Having three Channel Chiefs from Autotask Corporation is a great recognition of our commitment to the channel.
East Greenbush, NY (PRWEB) February 24, 2011
Autotask Corporation today announced that three of its executives have been named Channel Chiefs by Everything Channel's CRN. Channel Chiefs are leaders in creating effective channel programs for IT solution providers. They consistently defend, promote and execute effective channel partner programs and strategies.
The Channel Chief list was published in the February 21, 2011 issue of CRN magazine. Included on the list are: Autotask Chief Visionary Officer Bob Godgart, Autotask SVP & Dean of Autotask Academy Len DiCostanzo, and Autotask's Executive Director of Business & Community Development Mark Crall.
This year's Channel Chiefs were chosen by the CRN Editorial staff. Applicants were judged based on policy and program innovations made during the past year, the amount of revenue their company generates through partners, their willingness to speak out publicly on behalf of the channel, and the number of years they have dedicated to channel activities.
"Having three Channel Chiefs from Autotask Corporation is a great recognition of our commitment to the channel," said Mark Cattini, Autotask Corporation CEO. "Our software delivers tremendous value to VARs and MSPs by helping them to run their business operations more profitably. And our proven cloud-platform allows for seamless collaboration across the channel through our vendor integrations, our built-in online Community, and our strong distributor partnerships."
Bob Godgart was recognized for his collaboration with the Everything Channel's IPED research arm in examining the various business models of VARS and solution providers. That research confirmed that those businesses with a balance between product sales and services delivery were the most profitable. Len DiCostanzo was recognized for his onboarding of 10,000 new solution providers into the vibrant online Autotask Community, and his ongoing delivery of ITIL best practices through the Autotask Academy. And Mark Crall was acknowledged for his role in integrating the VARStreet product quoting and procurement tool into the Autotask platform, making this important technology more affordable and accessible to any VAR.
"The CRN Channel Chiefs list is a comprehensive listing of the leading channel executives at vendor organizations and their accomplishments," said Kelley Damore, VP, Editorial Director, Everything Channel. "This prestigious list serves as a valuable must-read for solution providers looking to get to right contacts within the vendor community. We applaud this year's Channel Chiefs for their successful partner programs and strategies."
About Everything Channel
Everything Channel is the premier provider of IT channel-focused events, media, research, consulting, and sales and marketing services. With over 30 years of experience and engagement, Everything Channel has the unmatched channel expertise to execute integrated solutions for technology executives managing partner recruitment, enablement and go-to-market strategy in order to accelerate technology sales. Everything Channel is a UBM company.
About Autotask Corporation
Autotask Corporation provides the world's leading hosted IT Business Management software built specifically for VARs, MSPs, and other technology solution providers to help them run their businesses better. The software is available on demand to help IT solution providers to sell, implement, deliver and bill their technology products & services.
For more information about Autotask Corporation and products, follow us on:
http://www.autotask.com/twitter
http://www.autotask.com/facebook
http://www.autotask.com/youtube
http://www.autotask.com/flickr
http://www.autotask.com/linkedin
Autotask® and VARStreet® are registered trademarks of Autotask Corporation. All other trademarks mentioned in this document are the property of their respective owners.
Media Contact: Bob Vogel
bvogel(at)autotask(dot)com
In US: +1.518.720-3500
###