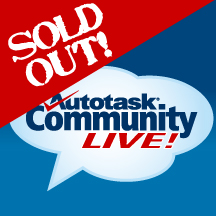 "Putting together an event of this magnitude is a massive undertaking, but one which our customers richly deserve." -- Mark Cattini, Autotask President & CEO
East Greenbush, NY (PRWEB) May 18, 2011
More than 700 attendees from as far away as London, England and Sydney, Australia are expected to converge in Miami, FL for the third annual Autotask Community Live worldwide user conference starting on Sunday May 22, 2011.
The event -- organized by Autotask Corporation of East Greenbush, NY -- has become one of the IT industry's largest gatherings of VARs, MSPs and IT solution providers, all of whom use the Autotask cloud-based IT business management software. The two-and-a-half day event gives attendees access to a wide range of training sessions, business-building keynotes and peer-to-peer networking opportunities; all designed to help them improve their efficiency, maximize profitability and build their businesses.
Dean Bowen, president of Net-Flow Corporation of Napa, CA is making the cross-country trip to attend Autotask Community Live for the second year in a row. In explaining why, the IT service provider said, "This is the best place to energize my business for the coming year. There are great 'how-to' courses, a great Boot Camp, and it's a great time to meet with other service providers around the world to see what they're doing that I can learn from."
In addition to learning from each other, attendees will have an opportunity to interact with the IT Industry's leading vendors sponsoring the sold-out event -- including new offerings from Zenith Infotech and OKI Data -- the two top-level platinum sponsors. Other sponsors include industry giants Google, Ingram-Micro and HP; and emerging vendors such as marketing-as-a-service provider Kutenda, cloud-as-an-infrastructure provider 6Fusion, Autotask extensions developer PerformanceIT.
"It's just great that the Autotask base has grown so large that it can support the birth of new entities like RapidFire Tools," said Michael Mittel, president of PerformanceIT, the Atlanta, GA parent company of RapidFire Tools. "We're building the future of our business around creating add-on products specifically to expand the features and functions of the Autotask cloud platform."
In all, more than 40 industry vendors will be exhibiting at Autotask Community Live. "Putting together an event of this magnitude is a massive undertaking, but one which our customers richly deserve," noted Autotask president and CEO Mark Cattini, who will address the audience during the event's opening keynote address. "While there are many other important industry events every year, this is the only place where our customers can engage fully in everything the Autotask Community has to offer."
Cattini will be joined on stage by Autotask Founder and Chairman Bob Godgart, who will reveal the 7 top trends he sees coming for the IT services industry. On day 2 of the event, the keynote will be delivered by noted strategist and author Jackie Freiberg, who will present a new, IT-specific spin on the best-selling book, "Blowing the Doors Off of Business As Usual."
With improving business a core goal of the conference, Autotask Corporation is teaming up with CompTIA --the world's largest IT Industry association -- to deliver two full-days of business training featuring the introduction of a new set of courses that form the foundation of a revamped and updated IT training and certification curriculum. CompTIA will also announce a new accreditation program, MSP Trustmark, established especially for companies offering managed services as part of their portfolio.
The business-building sessions will be complemented with a full range of product-related training sessions, divided into tracks appealing to customers with different levels of product experience and proficiency.
For the third year in a row, the event's popular full-day Autotask Accelerator Boot Camp has also sold out. More than 100 solution providers will converge on Miami a day before the event to participate in the intensive hands-on training session, originally developed by IT veteran Len DiCostanzo and delivered by Autotask Academy, the education and training arm of Autotask Corporation.
"The fact that each year the event doubles in size is a great indicator of the value that our customers see in Autotask Community Live," said Autotask Sr. VP of Strategy and Market Development, Jay McBain, who will serve as host for this year's event. "We are thrilled that we can play such a pivotal role as the center of the IT service ecosystem for so many companies."
About Autotask Corporation
Autotask Corporation provides the world's leading hosted IT Business Management software built specifically for VARs, MSPs, and other technology solution providers to help them run their businesses better. The software is available on demand to help IT solution providers to sell, implement, deliver and bill their technology products & services.
Autotask® and VARStreet® are registered trademarks of Autotask Corporation. All other trademarks mentioned in this document are the property of their respective owners.
###