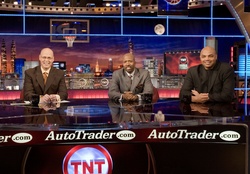 Through this extension, we will continue to work together to produce exciting NBA-themed promotions that will emphasize the bond between our brands both on television with TNT and NBA TV, and online through NBA.com.
ATLANTA (PRWEB) October 22, 2007
AutoTrader.com's partnership with the NBA will include a significant presence during marquee NBA events such as NBA All-Star 2008 in New Orleans on Feb. 15-17, and the NBA Playoffs, beginning in mid-April. Also included in the partnership is a 2008 "Drive to The Finals" playoff promotion in conjunction with NBA.com. The winner of this promotion will receive $25,000 toward the purchase of a car listed on AutoTrader.com.
As part of its presenting partnership of NBA on TNT Tip-Off, two-time Emmy winner Ernie Johnson will once again host the show from behind the AutoTrader.com desk, with popular NBA analysts Charles Barkley and Kenny Smith. The season-long involvement with the popular NBA pregame show, which begins opening night of the 2007-2008 regular season Oct. 30 at 7 p.m. ET, gives AutoTrader.com's brand exposure during the show on TNT as well as TNT HD, the Airport Channel, NBA TV and other Turner Broadcasting and NBA cable and Internet properties. In addition to pregame and on-court exposure, AutoTrader.com will be a prominent commercial advertiser during NBA broadcasts on TNT throughout the season.
"By positioning AutoTrader.com front and center for a season-long partnership, we are able to effectively and efficiently keep our brand name in front of millions of potential customers for months at a time," said AutoTrader.com Vice President of Marketing Clark Wood. "With this kind of on-going exposure, we can be sure millions of NBA fans see and hear our name when they're ready to buy or sell a car. Our continued outreach to sports fans has proved to be a positive outlet to increase long-term awareness of AutoTrader.com."
"Since the inception of our partnership, AutoTrader.com has been committed to enhancing the overall NBA experience for our fans through a variety of media platforms," said Mark Tatum, Senior Vice President of Marketing Partnerships for the NBA. "Through this extension, we will continue to work together to produce exciting NBA-themed promotions that will emphasize the bond between our brands both on television with TNT and NBA TV, and online through NBA.com."
"We are happy to continue what has been a successful marriage between AutoTrader.com and the NBA on TNT Tip-Off Show," said Trish Frohman, EVP of Ad Sales, Turner Sports. Frohman added, "Fans know when they tune in to the NBA on TNT we will provide them with the facts and the experience to back it up, something our friends at AutoTrader.com also champion when you go to their Web site."
Online at NBA.com, AutoTrader.com will have video ads and banners on the site and will be included in the NBA e-newsletters. Another element added to this year's partnership, is the NBA on TNT Tip-Off show poll on NBA.com, where fans can weigh in on various NBA topics, from opening night through NBA All-Star 2008.
The NBA Tip-Off Show Presented by AutoTrader.com airs regularly throughout the NBA season on Thursday evenings at 8 p.m. ET on TNT and is simulcast and rebroadcast on several other cable and online outlets.
About AutoTrader.com
AutoTrader.com, created in 1997 and headquartered in Atlanta, Ga., is the Internet's leading auto classifieds marketplace and consumer information website. AutoTrader.com aggregates in a single location more than 3 million vehicle listings from 40,000 dealers and 250,000 private owners, which provide the largest selection of vehicles attracting more than 13 million qualified buyers each month. Through innovative merchandising products such as multiple photos and comprehensive search functionality, AutoTrader.com unites buyer and seller online - dramatically improving the way people research, locate and advertise vehicles.
AutoTrader.com, an official marketing partner of the NBA, has aligned with several sports properties in recent years and just completed its second season as a partner with six Major League Baseball teams, including: the New York Yankees, Atlanta Braves, Chicago Cubs, Texas Rangers, Philadelphia Phillies and the Los Angeles Angels of Anaheim. Each fully-activated partnership included several elements, such as: team radio advertising, electronic or static stadium signage, scoreboard and on-line consumer promotional programs with media support and customized in-game features.
AutoTrader.com is a majority-owned subsidiary of Cox Enterprises. The venture capital firm Kleiner Perkins Caufield & Byers is also an investor.
About The NBA
The NBA, founded in 1946, is a global sports and entertainment brand that features 30 teams in the United States and Canada. During the 2006-07 season, the NBA distributed 45,000 hours of programming to 215 countries and territories in 41 languages. The league's worldwide reach can also be seen with 85 international players on NBA rosters. Domestically, the NBA broadcasted 142 games on national television last season on ABC, TNT, ESPN and ESPN2, and eclipsed attendance records for the fourth consecutive season.
NBA TV, launched in 1999 as the first 24-hour television channel created and operated by a professional sports league, is distributed to 73 countries. NBA merchandise is sold in more than 100,000 stores in 100 countries on six continents; NBA.com gets more than half of its visitors from outside the United States.
NBA Cares is the league's social responsibility initiative that builds on the NBA's long tradition of addressing important social issues in the United States and around the world. Through this umbrella program, the NBA, its teams and players have committed to donating $100 million to charity, providing a million hours of hands on service to the community and creating 250 places where kids and families can live, learn or play. NBA Cares works with internationally-recognized youth-serving programs that support education, youth and family development, and health-related causes, including: UNICEF; the Make-a-Wish Foundation and the Global Business Coalition on HIV/AIDS, Malaria and Tuberculosis.
About Turner Sports
Turner Sports, Inc., a Time Warner company, presents some of the best and most popular sporting events worldwide and is a leader in televised sports programming. With events airing on TBS and TNT, Turner Sports' line-up includes NASCAR and NASCAR.COM, the NBA, Major League Baseball, professional golf, PGATour.com and PGA.com.