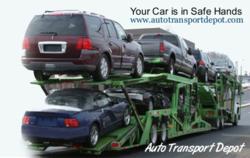 I LOVE IT
- Super Fast Quotes
- Savings in $100's, not in $10's
- Licensed & Insured Transporters
- Door-to-Door Service
- Expedited Shipping Options
(PRWEB) January 16, 2013
While the snow fall season is at its best, and all the holiday season greetings are in order; snowbirds are flying south for the winter. Snowbirds traveling to warmer places in the cold snowy weather have the usual Christmas and New Year plans to look forward to. The momentum in the auto shipping industry in the US has risen due to this factor. This group of travelers will be using auto moving companies so that they can spend the snowy season in warmer places in the south. This year there is twice the percentage of travelers than the last year in the fourth quarter. This has opened a window of opportunity for the auto transport companies like ATD.
The signs are positive this year that the economy will be growing at a much more productive rate which is an improvement over the demented economic downturn that we have all been experiencing in the last few years. This trend suggests indirectly that there will be healthy competition over car shipping rates as well. ATD has positioned itself to maximize on the opportunity by providing discount packages to the snowbirds and has offered free online tracking services during the Christmas & New Year season. The cars shipped to each destination will be ready for pickup from either a terminal location or a specified address that has been provided to the shipping company while booking.
A travel plan without an auto transport company like ATD is incomplete. Thousands of people every day use http://www.autotransportdepot.com and get several free car shipping quotes to start their journey. This January, ATD is completing its five years in business and is offering exclusive rates for one month starting January 25, 2013.
Common Questions About Car Shipping:
How is a shipping service quoted? First step in a car shipping process is getting the right price/quote. Car shipping quotation depends on a multiple factors including but not limited to, type of the vehicle, distance and the route, make and model of the care, size of the car, and time of the year.
What's included in the price: Quotation price is based on what a customer needs. It could be basic transportation of vehicle in open carrier with liability and insurance. It could be using protective sheets, seat covers, and/or enclosed carriers that will protect vehicle from dirt, debris etc. It could also be expedited shipping, which generally involves paying drivers overtime and/or using multiple drivers.
If a car has accessories such as additional sound-system equipment, custom rims, a spoiler, etc., it may need to be shipped separately or upgraded its plan of shipping, depending on the type of accessory, company policies, and FMCSA rules. Again, the more details a company has about the condition of a vehicle and the type of transport needed, the more accurate a quote will be.
Whom to trust? While price is always a determining factor, it shouldn't be the only one. Auto Transport Depot works hard to find members who are competitively priced and well-respected in the industry so that the car shipping experience will be positive no matter which company is hired. The bottom line is to find a company that can be trusted and felt comfortable leaving the vehicle with. Sometimes, peace of mind is worth a few extra dollars.