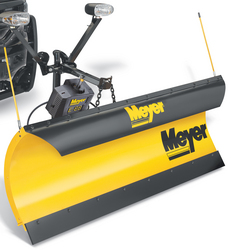 Customers will have a great opportunity to purchase a quality product at a very affordable price
Bensenville, IL (PRWEB) August 28, 2008
Auto Truck Group is now beginning a new promotion to sell the Meyer EZ-Mount Xpress snowplow.
The EZ-Mount Xpress is Meyer's premium snowplow featuring the fastest and easiest mounting system on the market today. It is a self-mounting and pin less system that mounts or dismounts with the push of a single button. Simply connect/disconnect a single power source and push a button to mount or dismount the plow.
The Xpress Series plow is designed with a more aggressive attack angle and curvature giving maximum snow removal capacity and the most efficient snow rolling action available. The design of this plow is based on heavy municipal-style plows and has many of the features of the larger plows. This allows users to throw more snow, farther and faster.
"Customers will have a great opportunity to purchase a quality product at a very affordable price," says Denny Jones, Vice President of Sales & Marketing.
Meyer Products is a leading manufacturer of highly reliable snow and ice control systems. Meyer's product innovations and industry knowledge have been improving transportation safety and the safety in our lives since the day they invented snowplows over 80 years ago. For more information visit, http://www.meyerproducts.com.
Auto Truck Group, headquartered in Bensenville, IL, has been Making Trucks into Tools since 1918. They offer extensive experience, knowledge, excellent service, competitive prices, and tremendous value to their customers. Auto Truck Group's five locations provide convenient access for up-fitting in the work truck industry. For more information please visit, http://www.autotruck.com.
###