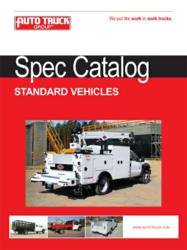 Bartlett, Ill. (PRWEB) February 06, 2013
Auto Truck Group, an expert upfitter specializing in the design, manufacture and installation of truck equipment, has introduced a new catalog featuring commonly quoted in-stock bodies.
The new general catalog features information, images and specifications on bodies which are routinely stocked, including: dump bodies, service bodies, platforms, mechanics trucks and snow plows. The catalog also offers a body selector guide and lists ship-thru, drop ship and facilities codes for the company.
The new catalog is available for customers to download at http://www.autotruck.com/catalog.
About Auto Truck Group
Auto Truck Group is one of the leading work truck upfitters in North America. Founded in 1918, Auto Truck Group serves the continental United States and Canada with nine service centers and ship-through service with four of the top OEM manufacturers. Auto Truck Group specializes in the design, manufacture and installation of truck equipment for a wide variety of customers, trades, and industries. From custom orders to entire fleets, Auto Truck Group is ready to help pool/dealer customers, commercial users, fleets, utilities, municipal and state governments, railroads, construction, energy and many other small businesses. For more information, contact Auto Truck Group at 855-AutoTrk (288-6875), or visit http://www.autotruck.com .