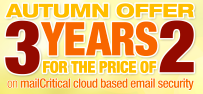 This offer is designed to help IT Managers make their budgets go further.
(PRWEB UK) 1 October 2012
iCritical – the web and email security vendor – has today launched a new 3-for-2 Autumn offer on its cloud-based email security service, mailCritical. For a limited time only, IT Managers can save money by purchasing a 3 year contract for the price of 2 single year licenses.* They'll also receive free business continuity as mailCritical contracts include it as standard.
mailCritical is a fast and reliable cloud-based email security service. Every email sent to an organisation is filtered in the cloud so only threat-free, legitimate emails are delivered to the network. The service is cloud-based so doesn't require any hardware or software to be installed and is proactively managed so the day-to-day maintenance and monitoring is taken care of by iCritical.
The Autumn 3-for-2 offer is available on orders placed before 21st December 2012.*
Craig Copeland, Head of Direct Sales at iCritical, thinks the offer will appeal to the many IT Managers who have had their budgets cut. "This offer is designed to help IT Managers make their budgets go further," says Copeland. "We chose to give a 3rd year completely free of charge as this will make a significant difference to the overall price they pay. The offer is running for the entire quarter so we're urging anyone who has a renewal of their email security due in the next few months, or who is unhappy with what they're currently using, to get in touch and request a demonstration."
iCritical is offering free 1-to-1 online demonstrations to anyone who is interested in the email security service. To book a demo, visit http://www.icritical.com or email sales(at)icritical(dot)com.
mailCritical email security includes:

Business continuity as standard
Hold & Replay disaster recovery feature
Configurable rules for policy enforcement
Granular spam management features
Industry and regulatory compliance controls
For full details of the 3-for-2 offer, visit http://www.icritical.com/autumn2012.pdf
*Terms and conditions apply
###
About iCritical
iCritical (http://www.icritical.com) is a leading provider of cloud-based services for email security, web security and secure email archiving. Since the company began in 2003 it has focused exclusively on delivering managed security services that reduce risk, increase control and provide peace of mind. Every iCritical service is a combination of feature-rich technology and round-the-clock monitoring and maintenance, all backed by unbeatable customer service. iCritical is privately-owned and based in the UK.