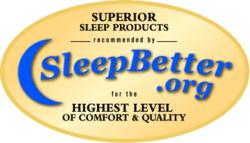 Individuals vary, of course, but the consensus is that the best sleeping environment is between 60 and 68 degrees.
Richmond, Virginia (PRWEB) November 30, 2011
For some people, a warm glass of milk or cup of chamomile tea is a soothing bedtime ritual. But what the human body really wants to do with the onset of sleep is to cool down. That's why cooler autumn temperatures are just what the doctor ordered when it comes to getting the best rest, according to sleep news and advice website SleepBetter.org.
"A cool environment in your bedroom is one of the most important factors contributing to good rest," said Dan Schecter, senior vice president of Consumer Products at Carpenter Co. and creator of SleepBetter.org. "Individuals vary, of course, but the consensus is that the best sleeping environment is between 60 and 68 degrees."
Research shows that temperatures above 75 degrees or below 54 degrees can disrupt sleep. It's not surprising that the arrival of cooler weather causes many people to want to hunker down on chilly mornings.
SleepBetter.org offers the following tips to make the most of your autumn sleep:

Make sure your bedding is appropriate to the season; think about whether your sheets, blankets and pillows give you the right support and warmth
You don't have to pile on heavy blankets; modern fibers and comforters can keep you warm without a lot of weight
When appropriate, open the windows and turn down the thermostat (you'll save money, too)
If you're waking up in the morning with aches and stiffness, maybe your mattress is not providing you with the correct lumbar support
If fall and winter sleeping leaves you with a sore throat and dry nose, consider whether a humidifier might help
For more tips to make the most of your family's sleep, please visit SleepBetter.org. You can also get sleep advice from SleepBetter on Twitter and Facebook.
About Carpenter Co. / SleepBetter.org
SleepBetter.org is dedicated to helping people sleep better. Designed as an online resource, the web site creates a forum for visitors to define, discuss, and discover solutions to their particular sleep needs. SleepBetter.org's quest is to continually gather pertinent sleep information, then share this knowledge with the general public. The site also shares tips on the best sleep related products, both in stores and online. SleepBetter.org has created the Sleep Better seal as a way to easily identify products recommended for their superior quality or scientifically based design. Created by Carpenter Co., the world's largest producer of comfort cushioning products, SleepBetter.org provides information and advice that visitors can use to sleep better. For more information, please visit http://SleepBetter.org.
###