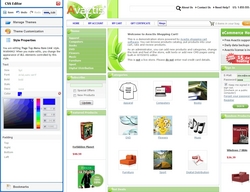 Programming skills are not required: today anyone can build an e-commerce website.
Seaford, NY (PRWEB) February 10, 2011
Avactis has always strived to create easy-to-use e-commerce software. Since those solutions have achieved good results in simplicity for developers, Avactis is now bringing the software up to a new level. The new release turns to non-programmer users.
Those who intend to open an online store often encounter the problem that buying a software license is not the only expense that needs to be considered. Apart from hosting services, out-of-the-box software requires designers to create a template, and programmers who can implement the project. To create a unique website design, a store owner will have to pay from $1,000 to $3,000. To change design elements, a store owner has to hire a programmer. Therefore the $200 to $400 spent for the license grows to at least 7 to 10 times the original cost.
To resolve this situation, Avactis is offering a solution that helps owners, who are not programmers, easily change default templates without having to resort to web-developers. The Avactis built-in visual CSS editor allows the changing of backgrounds and block sizes, font styles, logos, etc. The Avactis visual layout editor allows the showing and hiding of blocks and also changing their locations. These tools can help design a unique storefront from a standard Avactis template and save the store owners thousands of dollars.
Although the Avactis Template Library now has six default themes, there are far more templates planned to be launched in the near future. In March, Avactis plans to open a template market for online stores based on Avactis ecommerce software. This market will offer store templates at a moderate price as well as free themes. All of the templates will be available for editing with Avactis visual tools that help users easily create unique designs from a standard template. Starting in February, the Avactis team is open to negotiations with designers and developers who can provide themes and templates for the Avactis market.
In addition to visual tools, Avactis ecommerce software also offers a wide range of default features that save significant amounts of money on custom development. Default features include inventory tracking for product options, unlimited additional product images, digital downloads, customer file uploads, customer groups plus group-specific pricing and product visibility, Google Analytics integration, powerful coupons, and much more. Additional features can also be developed and implemented by the Avactis custom development team.
With the Avactis 2.0 release, a variety of special offers for customers are planned for February and March. They will include bonuses for custom development, promotional discounts, and others. More information can be found on the Avactis website when special offers start.
For more information about Avactis products and services, send an email to info(at)avactis(dot)com, or visit avactis.com.
###