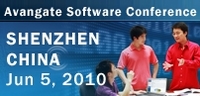 Avangate specialists will deliver presentations on successful and locally relevant tools and techniques for online software sales
Amstelveen, The Netherlands (PRWEB) May 20, 2010
Avangate, full service provider of electronic software distribution and reseller management solutions for the software industry, announced today that it will host a Software Selling Conference in Shenzhen, China, on June 5th.
What?
The event's agenda includes a take on the status of the global software market with focus on top 5 emerging markets.
Avangate specialists will deliver presentations on successful and locally relevant tools and techniques for online software sales.
Various case studies will showcase examples of shopping cart optimization projects that lead to a 5-7% increase in conversion rates and average order value for Avangate software vendors.
Affiliate marketing will also be covered - a great opportunity for both affiliates and vendors to gain more actionable insight into this business model.
Who?
The conference is aimed at software vendors and affiliates who are looking to sell software more efficiently online or via a distribution channel, grow their software business, expand into new markets or find new partnerships.
Avangate clients from the APAC region will also be available for first-hand feedback on Avangate services and quality of support.
About 200 participants are expected at the Avangate learn and network event.
When?
June 5th 2010, 13:30 - 18:30
Where?
Wuzhou Guest Hotel, Shenzhen, China
More details on the conference agenda and on how to register.
###