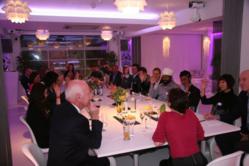 Although many companies are still using traditional means of recruitment...many are exploring the realms of online media to find the right fit for their growing businesses
London, UK (PRWEB UK) 14 November 2012
Almost 100% of the SMEs that attended Avanta's recent small business panel announced they will be taking on more employees in the coming year, with nearly 90% recruiting for permanent positions*, backing current UK employment trends.
Today the Office of National statistics announced UK unemployment fell by 49,000 to 2.51 million, providing a small improvement to the UK employment market.
This increase in recruitment was supported by the outcome of a recent round-table panel of business leaders from UK SMEs looking at the employment outlook for 2013, organised by leading provider of flexible office space and meeting rooms for growing businesses, Avanta Managed Offices Ltd.
Adeel Nadeem, Softweb Resourcing, is positive this potential growth is demonstrative of SMEs optimistic look towards the year ahead: "SMEs and growing businesses have it in their mind-set to be innovative, which can only be a positive approach for the year ahead. There comes a point where expansion becomes crucial for an SME to meet market demands."
And the ways SMEs are finding employees for these new positions is changing. Alan Pepper, CEO Avanta, said: "Although many companies are still using traditional means of recruitment consultants, advertising and recommendations, many are exploring the realms of online media to find the right fit for their growing businesses."
Kay Daniels, Director Daniels Accountancy, a bespoke accountancy firm concurred: "I am in the process of recruiting for two new positions and have veered away from the traditional methods of finding and hiring. I am using social media to find and invite individuals to a recruitment evening, giving me the opportunity to play a direct part in the process of selecting the right fit for the role from the outset, and because as a small company, we cannot afford to bring recruitment consultants on board."
*About Avanta's Grow Your Business Programme and Small Business Panel
Avanta's Small Business Panel is made up of a host of 18 representatives – directors and senior managers in the SME community. Their inaugural event saw them discuss and debate the latest issues affecting growing businesses in the UK.
Avanta's events programme has been designed to help SMEs and start-ups promote business growth. Covering a wide range of topics, from advice on how to raise finance to communications workshops, the Grow Your Business Programme seeks to provide help and guidance in key areas that can affect growing businesses during the crucial first stages.
For further media information please contact:
Will Brewster 020 7886 8461 will.brewster (at) flagshipconsulting (dot) co (dot) uk
Laetitia Redbond 020 7886 8457 laetitia.redbond (at) flagshipconsulting (dot) co (dot) uk
About Avanta Managed Offices
Avanta Managed Offices Limited was formed in 2004. The company offers high quality and cost effective serviced offices, meeting rooms and virtual offices in prime locations throughout London and the UK. All its business centres are managed by highly trained, Institute of Customer Service accredited teams, an industry first. Avanta operates 660,000 sq ft of office space across 19 buildings in the UK, and two in New Delhi, India.