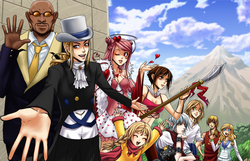 Adults can also feel secure that our staff keeps a watchful eye on the forums to make it safe for their children, while also providing an environment where the parents themselves can enjoy participating with like-minds of all ages
San Francisco, CA (PRWEB) October 20, 2009
The online world is an ever changing landscape where personal communication has evolved from email and BBS boards to live chat and pixel dolls or avatars that represent you. While many new e-communities are appearing all the time, remains at the forefront of avatar sites in its class. The site has recently expanded its skilled staff of developers and artists to include a team of Flash programmers. This dynamic team, lead by Ryan Abainza, will push forward with the site's continuing expansion and carry Menewsha into the next decade.
As part of this continued expansion, Menewsha has released two flash-based browser games, Attack of the Fan Girls and Menewsha Harbor Fishing. Both games have Menewsha's unique flair - incorporating the site's characters and its own flavor of quirky humor.
"I've been playing for a bit, and it's SO addicting!...Even my brother got addicted, and he's one tough gamer to impress!", one Menewsha member said in response to the release of 'Attack of the Fangirls'.
"It is our goal to provide a fun and safe virtual playground. Parents need to feel secure that their children are being given the right message: a game doesn't need to be violent just to be fun", says Abainza. "Adults can also feel secure that our staff keeps a watchful eye on the forums to make it safe for their children, while also providing an environment where the parents themselves can enjoy participating with like-minds of all ages"
Menewsha has been pioneering a fun, safe, and well moderated community where people age 13 and up can have fun and make friends since 2007, and is projected to hit the 500,000 user mark in 2010 under new ownership and funding.
###