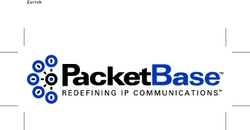 We are continually seeking ways to provide extraordinary patient service and value
San Jose, CA, USA (PRWEB) January 21, 2009
PacketBase, Inc. a leading provider of next generation Unified Communication Solutions and System Integrations, today announced the successful architecture design and deployment of Avaya's IP Communications and Contact Center platform for the Santa Cruz Medical Foundation (SCMF), now a part of the Palo Alto Medical Foundation (PAMF).
"We are continually seeking ways to provide extraordinary patient service and value," said Marian Piper, Technical Planning Manager at PAMF. "With PacketBase, our aggressive 12 month timeline for SCMF was completed without issues, on time, and on budget. It is apparent that PacketBase truly abides by their motto to be an extension of our team."
To help SCMF increase patient satisfaction, improve efficiencies and save costs, PacketBase designed and implemented a centralized and consolidated solution to accomplish the following:

Design a best-of-breed Voice Network leveraging technology from Avaya, Cisco and AT&T
Consolidate 15 standalone legacy PBXs and over 2,000 ports to one centralized IP Communications solution
Deploy a "stateful" failover architecture at the primary Hospital for transparent reliability
Implement a 100% local survivable design for all locations including Enterprise ESS redundancy
Install a combination of IP Telephones and existing Digital endpoints throughout the network
Provide VoIP access between all sites
Network to other Sutter Health Affiliates via Avaya's front-end IP Gateway integration to NEC PBXs
Deploy a new centralized 300 Agent Elite Call Center with advanced CMS reporting
Provide ongoing support through PacketBase's OnDemand Remote Managed Services
SCMF joins a growing list of PacketBase clients in verticals ranging from Technology, Healthcare, Manufacturing and Services among others.
About PacketBase, Inc.
PacketBase is a Services Oriented Provider of next generation Unified Communications solutions for mid to large enterprises. Specifically, we leverage the most powerful IP Communications, Contact Center and Unified Messaging technologies on the market today delivered through our unique suite of OnPremise, OnDemand and AdvancedServices. For more information please visit http://www.packetbase.com or call (866) 405-3992.
About Santa Cruz Medical Foundation
The Santa Cruz Medical Foundation (SCMF), now a part of the Palo Alto Medical Foundation (PAMF) is a member of the Sutter Health family of not-for-profit hospitals and physician organizations that share resources and expertise to advance health care quality. Serving more than 100 communities in Northern California, Sutter Health is a regional leader in cardiac care as well as care of women and children, and is a pioneer in advanced patient safety technology. For more information about the Santa Cruz Medical Foundation and Palo Alto Medical Foundation, go to http://www.pamf.org.
###