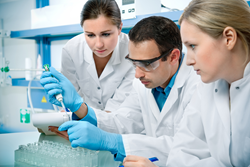 A first to market, HS-UK can now make the Avellino DNA Test for LASIK Safety available to UK laser clinics, making vision-correction surgery safer for those undergoing the procedure throughout the country
Harlow, Essex (PRWEB UK) 1 August 2014
Haag-Streit UK (HS-UK), the leading manufacturer and distributor of gold-standard optometry and ophthalmic equipment, is pleased to announce it has recently partnered with Avellino Lab USA and has been appointed the sole UK Distributor of the Avellino DNA Test for LASIK Safety.
The Avellino DNA Test for LASIK Safety is the only commercially available genetic test worldwide for Granular Corneal Dystrophy (GCD), a disease that can eventually lead to complete loss of vision.
Granular Corneal Dystrophy type 1 (GCD1) and type 2 (GCD2) is a disease that causes cloudiness, specifically grey-white granular protein deposits on the corneas, which can lead to loss of clear vision. GCD has been diagnosed in patients throughout the world and is one of the more well-known corneal dystrophies related to genetic mutations. While GCD usually develops slowly, carriers of this genetic mutation are at an extremely high risk of accelerated opacity formations should they undergo vision-correction surgery such as LASIK, LASEK or PRK. Fortunately, the Avellino DNA Test for LASIK Safety positively identifies, with high accuracy, if a person has the genetic mutation. By doing so, the test reduces the risk of patients with the GCD mutation having post-LASIK vision impairment and increases their confidence that they are avoiding unnecessary harm to their vision.
The Avellino DNA Test for LASIK Safety is both easy and safe. It involves a simple mouth swab to determine whether a person carries the GCD1 or the GCD2 gene mutation. Specifically, the Ophthalmologist takes 10 swipes from the inside of each cheek in order to obtain an adequate sample. The sample is then sent to Avellino Lab USA in California, and within 48 hours, the results are provided online to the Physician and then shared with the patient. Based on a negative result, patients are able to proceed with the planned LASIK procedure with confidence. If an individual is identified as positive for the genetic mutation, he or she will be advised against having LASIK surgery and encouraged to take protective measures, such as minimizing exposure to UV light by wearing appropriate protective lenses to help postpone the progression of GCD symptoms.
Grahame Wood, HS-UK National Sales Manager, commented, "A first to market, HS-UK can now make the Avellino DNA Test for LASIK Safety available to UK laser clinics, making vision-correction surgery safer for those undergoing the procedure throughout the country".
Grahame continued, "The adoption of the Avellino DNA Test for LASIK Safety would emphasise a laser clinic's commitment to delivering state‐of‐the‐art technology to their Patients, while increasing safety and success rates. It would truly differentiate clinics who fully-endorse Patient safety as being the number one priority".
For further information, please contact Haag-Streit UK on 01279 456255, or email avellino(at)haag-streit-uk(dot)com.
###
For news media enquiries, please contact:
Sharon Mills
Marketing Manager
Email: smills(at)haag-streit-uk(dot)com
DDI: 01279 456264
Mobile: 07850 311448
About Avellino Lab USA
Avellino Lab USA has developed the first and only commercially available testing system for Avellino Corneal Dystrophy (ACD), also known as Granular Corneal Dystrophy type 2.
The company's advanced genetic diagnostics system provides fast, safe and affordable evaluations of an individual's genetic predisposition to ACD. Known as the Avellino DNA Test for LASIK Safety, Avellino Lab USA is able to positively identify, with 100 percent accuracy, a patient's ACD status.
Based on the test's results, patients and their physician can make an informed decision when considering vision correction surgery.