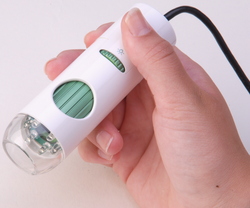 Customers have told us this is an extremely useful tool for parts inspection and precision testing
Ann Arbor, MI (PRWEB) October 31, 2008 - High-
resolution magnification and image capture are available in a sophisticated, compact Mighty Scope from Aven that incorporates technology advances.
The hand-held precision magnifier with a USB interface, introduced recently by the 25-year-old optical inspection systems company based in Michigan, has several best-in-class features to provide maximum precision, sensitivity and convenience.
Its focus range is fully adjustable to any magnification from 10 times to 200 times, unlike earlier models that limit users to fixed settings or limited ranges. Think of it as a mini-camera that zooms. A brightness control wheel allows fingertip adjustments of illumination from six white LEDs to suit varied interior or exterior environments -- another design improvement.
Three digital models include one with 500-times magnification and one with six ultraviolet lights operating at 405 nanometers (nm). An analog model also is available.
"Customers have told us this is an extremely useful tool for parts inspection and precision testing," says Mike Shahpurwala, marketing director at Aven. "Manufacturing engineers use it to check incoming deliveries of metal part for cracks or other microscopic defects, simply by plugging the Mighty Scope into any laptop."
Aven's hand-held scope, which includes a measurement tool, also simplifies color inspection by printers and textile manufacturers, as well as quality assurance checks of large parts because of its infinite working distance. Active pixel sensor technology provides sharp images and accurate color reproduction.
Images, interval shots or video are captured instantly by a 1.3-megapixel camera with a color CMOS sensor and Microsoft-compatible software on digital models.
A Microtouch shutter button eliminates the need to tap a computer key, whether Aven's scope is hand-held or mounted on an optional stand.
"This handy workbench or field tool is ideal for science labs, dermatology offices, classrooms, crime labs, electronic assembly or repair, printed circuit board inspection and other quality control checks," says Shahpurwala. "It's equally practical for jewelers, hobbyists and appraisers of small items."
In educational settings, research scholars or students can readily obtain custom-enlarged images to email or insert in documents.
Mighty Scope innovations include an ergonomic design for comfortable use with either hand.
"We're proud to add our first hand-held microscope to an extensive line of optical inspection and measurement tools," says Aven's marketing director. "The Digital Mighty Scope fills the need for lightweight, freely portable microscopy and imaging. It also meets our standards for performance and durability."
Aven, Inc. is a source of high-performance precision tools and optical inspection systems for industrial, scientific, research and education applications. Product lines include alignment tools, video inspection systems, magnifiers, precision knives, pliers and cutters, illumination equipment and other workbench solutions.
An electronics innovator since 1983, Aven is located in a high-tech corridor of Southeast Michigan and is the parent company of SharpVue, which designs and manufactures integrated digital microscope technology.
Visit Aven at Booth 2287 of MDM West, the Medical Design & Manufacturing Exposition in Anaheim, CA, from Feb. 10-12, 2009.
For more information, call Aven at (734) 973-0099 or see http://www.aventools.com for a digital catalog and video demonstrations.
###