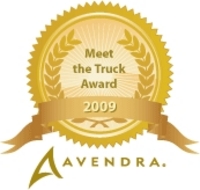 The Meet the Truck concept is core to Avendra's comprehensive approach to supply chain management
Rockville, MD (Vocus) May 14, 2010
Avendra, the hospitality industry's leading procurement services provider, is proud to recognize 49 suppliers for outstanding performance on its 2009 Meet the Truck audits.
Meet the Truck audits are one of the unique ways Avendra helps ensure that food and beverage deliveries made by contracted suppliers meet a wide range of Avendra requirements. The process involves an Avendra Quality Assurance professional coordinating a site visit at a customer location on a day they are expecting multiple supplier deliveries. Suppliers are not informed of the planned audit. At the time of delivery, Avendra rates suppliers on their order fulfillment, trailer, load, product integrity and overall performance. All criteria are equally weighted, and suppliers that do not receive a perfect score are provided feedback to help ensure their continued improvement.
"The Meet the Truck concept is core to Avendra's comprehensive approach to supply chain management," said Ed Thompson, vice president of Quality Assurance for Avendra. "We have multiple check points set up throughout the product lifecycle process – at manufacturing plants, at distribution centers - and through the Meet the Truck program we provide an extra level of oversight at the customer's loading dock. We want to make sure the distribution process is working properly. Is the order complete? Did the truck show up when it was supposed to? Was the truck in the condition it should be? Was the driver professional and were products unloaded properly? This extra effort helps ensure customers get what they ordered, at the quality level and in the timeframe they expect."
In 2009 Avendra's Quality Assurance team conducted 692 Meet the Truck audits at 225 customer locations, including: hotels, golf clubs, airports, colleges and restaurants. These audits were in addition to the 481 supplier audits overseen at Avendra manufacturers' and distributors' facilities.
To receive a Meet the Truck Award from Avendra, suppliers must participate in four or more Meet the Truck audits in a 12-month period and receive an average score of at least 95%. Of the 900 suppliers with which Avendra contracts, 181 were eligible for the award. Avendra suppliers are considered among the best in the industry illustrated by the fact that 173 of the eligible suppliers received scores of 90% or better. The 49 suppliers listed below are the very top performers, with average scores above 95%.
"Suppliers honored with this award exceeded our stringent expectations and we commend them for their superior and consistent service to our customers," said Thompson.
Avendra's Meet the Truck Award winners for 2009 include:
A New Dairy – Chicago, IL
AFA Foods – Ft. Worth, TX
Alta Dena – City of Industry, CA
Atlanta Foods International – Atlanta, GA
Buedel Food Product Company – Bridgeview, IL
Cambridge Packing – Boston, MA
Gourmet Kitchen – Neptune, NJ
City Seafood Inc – Los Angeles, CA
City Seafoods Phoenix – Phoenix, AZ
Cloverland Dairy – Baltimore, MD
Coastal Sunbelt Produce – Savage, MD
Gordon Food Service – Springfield, OH
Gordon Food service – Grand Rapids, MI
Green Tree Packing – Passaic, NJ
Halpern's Steak and Seafood Company – Atlanta, GA
J. Ambrogi Foods – Thorofare, NJ
K & M Meat Co – Vernon, CA
Keany Produce – Landover, MD
LA Specialty Produce – Santa Fe Springs, CA
LaBriola Baking – Alsip, IL
Martin Preferred – Houston, TX
Maryland Quality Meats – Baltimore, MD
Metropolitan Meat, Poultry & Seafood – Landover, MD
Newport Fish Company – San Francisco, CA
Northern Haserot – Cleveland, OH
Ocean Beauty – Carrollton, TX
Phoenix Wholesale Food Service – Forest Park, GA
Piazza Produce – Indianapolis, IN
Prestige Farms – Atlanta, GA
ProFish Seafood – Washington, DC
Progressive Gourmet – Wilmington, MA
Schepps Dairy – Dallas, TX
Schoenmann Produce Co. – Houston, TX
Shamrock – Phoenix, AZ
Shamrock Farms – Phoenix, AZ
Sid Wainer – New Bedford, MA
Stern Produce Company – Phoenix, AZ
Testa Produce – Chicago, IL
US Foodservice (Chicago) – Bensenville, IL
US Foodservice (Atlanta) – Fairburn, GA
US Foodservice (Los Angeles) – La Mirada, CA
US Foodservice (Montgomery) – Montgomery, AL
US Foodservice (San Francisco) – Livermore, CA
US Foodservice (Boston) – Everett, MA
US Foodservice (Greensburg) – Greensburg, PA
US Foodservice (Baltimore) – Severn, MD
US Foodservice (Virginia Beach) – Virginia Beach, VA
Wabash Seafood – Chicago, IL
West Central Produce – Los Angeles, CA
About Avendra
Avendra is North America's leading procurement services provider serving hospitality-related industries. Avendra customers gain access to contracts leveraging $3 billion of annual purchases, expert advisory services and in-depth purchasing data and analysis. Through Avendra, customers obtain substantial savings on their purchases and other value added services to improve their operations and bottom line results. Formed in 2001, the company is headquartered in Rockville, MD and has regional offices in the United States and Canada. For more information, please call (866) AVENDRA, visit http://www.avendra.com or email inquiries to marketing (at) avendra (dot) com.
###