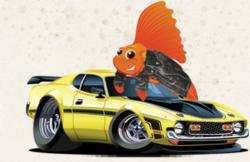 I think it's misleading for people to be told that having bad credit is no problem.
New York, NY (PRWEB) July 26, 2012
RoadFish.com men's lifestyle and finance magazine agreed with an article reported by Fox Business stating that the average credit score for car loans has dropped significantly, but the online magazine pointed at that consumers still need a decent score to have access to reasonable interest rates.
Allie Johnson of Fox Business reported on Monday that a credit analysis recently released by Experian Automotive revealed that the average credit score is currently at pre-recession levels. The article stated that in early 2010, the average score for consumers who purchased new cars was 776—an undeniable result of a difficult recession that made lenders picky about their borrowers. According to Experian Automotive's report, new car buyers rang in at an average 760 credit score in the first quarter of this year, which is close to where they were at the same time in 2008.
The above-mentioned article goes on to state that buyers with lower scores have been getting approved more easily, and that lenders are making more loans. Johnson also writes "Bad credit? No problem," and quotes Experian's Automotive finding that the average credit score for folks looking to purchase a used vehicle is currently 659. The director of automotive credit at Experian Automotive, Melinda Zabritski, is quoted as saying, "A few years ago, it could have been much more difficult to get an auto loan. A lot of lenders who specialize in subprime financing might not even have had the funds to lend. But [now it's] a good time to buy a car."
RoadFish.com agrees that according to the report, loans are becoming easier to obtain especially for people whose credit does not top the charts, but disagrees with the line that having bad credit poses no problem whatsoever. RoadFish.com's Senior staff writer is quoted as saying, "I think it's misleading for people to be told that having bad credit is no problem. The fact is that folks with poor credit will pay anywhere from hundreds to thousands of dollars more in interest than borrowers with great or even good credit. Sure, you might get approved to buy a car if your score is in the high 600s, but there's no doubt in my mind that the interest rate is going to be through the roof. It's important for people to understand the value in having good credit, and that maintaining a good credit history and score can save a ton of money down the road."
The above-mentioned Fox article stated that according to Experian Automotive's report, loans to car buyers with scores between 679 and 550, and even below that, have increased by 11.4% since the last quarter in 2011. This is obviously indicative that lenders are giving loans to borrowers with non-prime credit scores, and what's more, buyers have recently started getting accepted for bigger loans than last year. The article states that last year, the average new vehicle loan was $25,406; in the first quarter of 2012, it had gone up to $25,995. And the used vehicle loans made an even more dramatic jump, from $16,639 last year to $17,050 this year.
RoadFish.com advised its readers to check on their credit score at least once a year, and more if they are actively working to improve it. RoadFish.com's Senior staff writer is quoted as saying, "If you're wondering, 'what is my credit score?' it's probably time for you to check it. There are ways to obtain free reports and scores once per year, which you'll want to check to make sure they are accurate. Any inaccuracies or errors should be reported to the credit bureau so that you're score doesn't suffer because of a mistake. And honestly, if you're car shopping, house shopping, boat shopping, whatever—take the time to make sure your credit is in good shape before you apply for a loan. True, it might mean putting your purchase off for a year after you get your credit score on better ground. But you might be shocked how much money it can save you."
According to FICO's website, there is a dramatic difference between the number on somebody's credit score and the APR that that person will pay during the length of a loan. FICO's website states that for folks with a credit score of 720-850, the average APR will be 3.55%. Borrowers whose credit scores fall between 690 and 719 will generally receive an APR or 4.95%, and people who have a credit score from 590-619 will pay a whopping 15.96% in interest.
About RoadFish.com
RoadFish.com is a widely read online men's lifestyle and finance magazine targeted towards gentlemen in their 30's and 40's. Most readers have already attained a reasonable level of success in life, and are seeking to bring their goals to the next level. Most readers reach towards larger goals in life, be they personal, financial, or professional. RoadFish.com men's lifestyle and finance magazine features articles that deal with men's luxury items, new adventures, current events that are of relevance to the readers, hot chicks, and tips on budgeting and saving money. It is owned and operated by Purpose Inc.