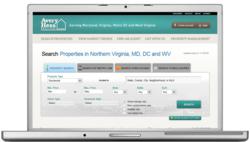 The new site has improved our MyLife Home Search™ and provides consumers with a one stop shop of everything they could possibly need when searching for the perfect home."
Washington, D.C. (PRWEB) February 14, 2012
Avery-Hess, Realtors, an independent real estate brokerage based in the Washington, D.C. Metro area, has launched their next-generation real estate website featuring an enhanced version of their trademarked MyLife Home Search™ platform, providing users with a deeper more fulfilling experience than other local real estate sites. The new site is located at http://www.averyhess.com
"Today's consumer is looking for more than the traditional home search; they want market trends, property details, lifestyle information and ratings, and they want it all at their fingertips," explained Scott Avery, founding partner of Avery-Hess, Realtors. "The new site has improved our MyLife Home Search™ and provides consumers with a one stop shop of everything they could possibly need when searching for the perfect home."
The Avery-Hess MyLife Home Search™ attends to the most basic needs every user has when searching for homes, which regards answering the most basic question: "Can I live here?" To create that search and provide the user with the best experience possible, the new website includes:

Metro Line Search
Open House Search
Foreclosure Search
Search Results displayed in Gallery and Map Views
Agent Match
Detailed Market Trends
Commuter Gas Price Calculator
Estimated Mortgage Calculator
Walk Score
Yelp Reviews
"At Avery-Hess, we continually strive to be on the cutting edge of technology and to provide our clients and agents with the most comprehensive real estate search possible," said Kristin Maynard, Marketing Manager for Avery-Hess, Realtors. "From our Metro Line Search that offers results based on a listings proximity to a station, to detailed Market Trends that assist in determining what community is best for the user, we've strategically planned and meticulously tested all aspects of our new site to ensure we've got the best tools the industry has to offer."
Fitting with their culture of providing the best possible real estate experience a brokerage can offer, the new website, averyhess.com, updates current listings every 15 minutes, giving users the most accurate real estate data available.
About Avery-Hess, Realtors
Avery-Hess Realtors is an independent real estate brokerage that operates seven offices serving Maryland, Virginia, Metro D.C. and West Virginia. They are an affiliate of Leading Real Estate Companies of the World – a global real estate network consisting of the finest real estate brands, providing uncompromised marketing clout. They are devoted to providing consumers with the best technology, decision support and agents in their respective markets since 1992.
###