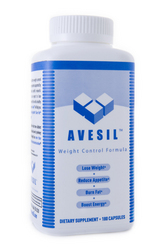 We developed Avesil in order to offer a weight loss product that is in fact rooted in scientific research
Miami Beach, FL (PRWEB) October 26, 2008
Green Bracket LLC is pleased to announce Avesil, a cutting-edge new weight loss supplement. Avesil works along the principles of thermogenesis and lipolysis, to significantly augment the results of a healthy diet and exercise plan. Thermogenesis raises the rate at which the body metabolizes and burns fat and carbohydrates, while lipolysis is the breakdown of fat that is stored in fat cells. Combined, these two factors can lead to significant weight loss, as well as an increase in energy and lean muscle mass.
To arrive at the formula that makes up Avesil and to substantiate its benefits, Green Bracket LLC commissioned an original research study that drew from a total of 284 clinical studies which were previously published in peer-reviewed scientific and medical journals. This research strongly supports the weight loss benefits of the Avesil formula. Two studies performed on human subjects revealed that those who took Avesil's primary ingredients in conjunction with a healthy diet and exercise lost over three times the weight of those who took a placebo and engaged in a healthy diet and exercise alone.
While competing weight loss supplement marketers tout formulas of exotic herbal ingredients, many have no foundation in science and are supported by little other than folklore and pop culture.
With literally thousands of weight loss supplements to choose from, many of which make outrageous claims, Avesil doesn't promise miracles. A user must be committed to healthy lifestyle changes, including a reduced calorie intake of a healthy diet combined with a regular exercise regimen. With Avesil, however, these efforts will be rewarded with a significant increase in weight loss.
"We developed Avesil in order to offer a weight loss product that is in fact rooted in scientific research," says Cassandra Wesch, marketing director of Green Bracket. "Too many overweight people have been cheated by marketers of worthless so-called 'diet pills' with no scientific evidence to back up their claims."
Avesil can be ordered directly through the official website - Avesil.com.
###