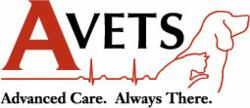 Pittsburgh, Pennsylvania (PRWEB) August 21, 2012
With people demanding the same medical care as they demand for themselves, veterinary medicine continues to strive to meet this demand. A consensus of recommended clinical guidelines for CPR similar to the American Heart Association in people was lacking until now. The RECOVER initiative has developed and published guidelines for our four-legged family members to provide evidenced-based and consistent recommendations when they are faced with a cardiac arrest. These guidelines were created and published by veterinary specialists at leading veterinary universities and a local veterinary specialist right here in Pittsburgh.
Dr. Sean Smarick, an emergency and critical care specialist and the Hospital Director at AVETS in Monroeville, PA was a co-chair of the post arrest domain and one of the authors of the guidelines.
For more information, visit http://www.avets.us/.