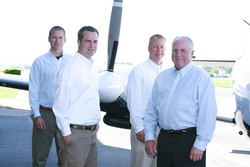 The pay-by-the-hour plan is a no lose program for commercial aircraft operators
St. Louis, Mo (PRWEB) August 27, 2009
In these difficult economic times, customers demand a good value, and commercial aviation insurance customers are no different. With flying hours down in many parts of the country, commercial operators have less cash flow to pay the traditional premiums associated with operating flight schools, charter operations, flying clubs, rental operations and more. The fixed monthly premiums can make months of below-average flying hours very difficult. In response to this, Travers & Associates is proud to offer innovative coverage that allows its customers to only pay for insurance when they actually need it, by the flying hour. The program is offered through Travers and Associates' longstanding relationship with Phoenix Aviation Managers.
"The pay-by-the-hour plan is a no lose program for commercial aircraft operators," said Chris Travers, sales manager for Travers and Associates and a third generation aviation insurance agent for the company. "The less you fly, the less you pay and the more you fly, the more you pay; however you never pay more than your annual premium. So, if a customer's flying hours are down in a particular month or he has to ground a fleet for some unforeseen reason, he isn't forced to pay that full commercial aircraft insurance payment each month. This program allows customers to better budget their insurance dollars and most likely will help them to increase revenue and reduce workloads."
As the only pay-by-the-hour insurance product in the industry, customers pay an hourly rate for each hour the airplane flies (based on the Hobbs Meter). With only a nominal fixed monthly base rate, this program allows the operators to maintain cash flow and have their insurance costs directly correspond to revenue. Additionally, there is a cap in place that makes sure customers only pay as much as they would have paid had they purchased the annual premium, no matter how many hours the airplane flies.
This program works through use of an online scheduling and aviation information management system. All flight hours are logged through an easy-to-use system that then emails automatically generated reports on a monthly basis to Travers and Associates for billing purposes. The industry has attempted to launch pay-by-the -hour programs in the past, but this was before computers and online networking were so commonly used in the aviation industry. All hours were logged manually, making this type of program next to impossible to administer. Now, management technologies are making the pay-by-the-hour program possible.
"The primary goal of this program is to help commercial operators manage their cash flow by earning premium by the hour. This challenging economy is affecting everyone and there is a definite need in this market for a product that allows operators to maintain their businesses and still have the best coverage available. While these types of programs have been unsuccessful in the past, the widespread use of computers and the internet combined with innovative aviation management technology, could have pay-by-the-hour insurance coverage changing the face of the entire industry," said Travers.
About Travers and Associates
St. Louis-based Travers and Associates was founded by WWII Naval aviator, Captain Bob Travers. Now including three generations of the Travers family, Travers and Associates provides superior coverage in the aviation insurance industry. Specializing in private aircraft insurance, corporate aircraft insurance, commercial aviation insurance and life insurance for pilots, the Travers team can customize a plan to meet any pilot or company's needs. For more information about Travers and Associates, or to get a customized quote, please visit http://www.traversaviation.com/ or call 1-800-888-9859.
###