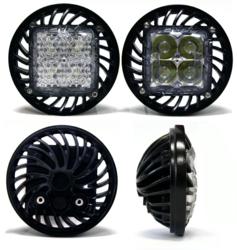 Using Rigid Industries Patented Hybrid Optical Systems, aircraft owners now have a choice in both price and performance.
(PRWEB) July 20, 2012
The flagship "R+" narrow 15° beam, using Cree XM-L LED's, provides over 3400 raw lumens. This paired with Rigid Industries optical technology provides close to 2x the distance of any LED competitor, all while consuming less power. The $229 MSRP "RD" provides an astonishing 1800 lumens. In a 10° spot beam, the "RD" provides over 46,000 measured peak beam candela while only using 23 watts.
On top of the industry leading light projection, Rigid Industries is also offering 70° diffused options. Great for taxi or recognition lights, the diffused lens is offered in either the R+ or R series for users to truly customize where and what kind of light they are looking for in an LED landing light.
All R-Series lights are IP68 certified, cast out of lightweight magnesium and coated with an extremely durable Series 38 polyester powdercoat. The lens is a virtually unbreakable, optically clear polycarbonate with a proprietary UV resistant anti-scratch hard coat. Once inside the unit you'll find a polarity insensitive 92% efficient 1mhz PWM controller for years of reliable service. Combine the SR-M, SR-Series and E-Series and now R-Series lights together for an entire line of US made aircraft landing light solutions.
Please come see all our lights including the new R+ at our booth during the EAA Convention held in Oshkosh WI, July 23rd-29th, 2012, booth 1093 in the Aircraft Spruce and Specialty building A.
Rigid Industries is the world leader in cutting edge forward projection LED lighting technology. Other than Aviation LED Lighting the products can be used for Off-road LED Lighting, Military LED Lighting, Agricultural LED Lighting as well as Marine LED lighting. Rigid Industries is committed to supporting their customers and the industries they work in by continuously developing new product lines to meet their needs. For more information on the all new R-Series, please visit http://www.RigidIndustries.com.
About Rigid Industries:
Rigid Industries has been providing LED Lighting products and accessories at a great value since being founded in 2001. Customer service, as well as innovation, has always been a cornerstone of Rigids' success. With the acquisition of Holder Off-road, Rigid Industries became the manufacturer of the E-series LED Light Bars, the brightest and most efficient LED light on the market. In 2008, Rigid Industries acquired Dirt Lights, Inc. and Plane Lights, Inc. to expand the lighting products to include high quality HID product. Rigid Industries now has design, customer service, sales and manufacturing all headquartered in Mesa, Arizona. For more information please visit http://www.RigidIndustries.com.