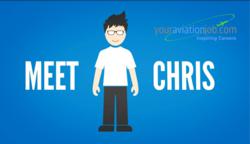 See the video about Christ on www.YourAviationJob.com
(PRWEB) May 31, 2013
YourAviationJob.com is proud to announce its second video which unveils the story of an aviation professional looking for new aviation career opportunities. The plot summarizes a typical job seeker scenario presented in the face of Chris who is an aviation professional and recently had a big problem. He wanted his career in aviation to land on a new job opportunity but didn't know where to look for it until he found YourAviationJob.com. See the aviation career guidance video here.
Your Aviation Job is the world's fastest-growing free aviation jobs website with worldwide reach, free sign up, tons of quality aviation jobs. Job seekers can apply with a CV or use the "Apply with LinkedIn" button. YourAviationJob.com is a website that connects aviation professionals with currently recruiting companies all without charge.
Chris saw thousands of aviation jobs on the website, made a registration and started receiving Weekly Job Alerts by e-mail. It wasn't long until he found his desired job and applied for it. As it turned out Your Aviation Job was the best website he could possibly find because it offers latest aviation vacancies.
So now that big problem Chris had has gone away completely!
The company video shows the benefits of using the website for aviation career development. Every job seeker enjoys the opportunity to have a wide range of opportunities when browsing for their dream job. Furthermore, being able to bookmark jobs for later review comes in handy to prepare the full list of documents needed to apply according to recruiters' requirements. YourAviationJob.com offers to aviation professionals a full application history.
Since 2011 recruiters and direct employers can post aviation career opportunities, such as airline jobs, aircraft jobs and all types of vacancies related to the aviation industry. At the same time aviation job seekers worldwide have the opportunity to enjoy an accumulated global database with the best aviation jobs available which is constantly growing. Every week more and more aviation recruiters advertise vacancies on Your Aviation Job which provides additional options for those looking for a career in aviation.
Job seeker testimonial:
"I registered onto your website recently and it was like having a breath of fresh air. It is fantastic and easy to use, I have registered on over 200 job websites to find a job and yours is by far the best I have found yet. No other website comes close to being as good as yours." says Chris Smith, Job Seeker, United Kingdom.
Check out YourAviationJob.com now and see for the excellent functionality and ease of use.