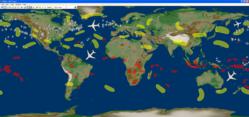 After evaluating several different processes and software packages, CFM has deployed WSI Fusion as its flight tracking and weather planning management tool. Fusion allows us to make well-informed decisions and optimize our flight routing.
Andover, MA (PRWEB) October 10, 2011
WSI (Weather Services International), the most trusted name in aviation decision support, today announced WSI Fusion 4.0. This newest Fusion version adds comprehensive meteorological content, advanced operational efficiencies and other optional features to the Fusion solution, a proactive, advanced and comprehensive workflow-based aviation decision support tool.
Corporate Flight Management (CFM), with 35 aircraft based in five different states and a central dispatch office located in Tennessee, hailed the solution for flight planning.
"After evaluating several different processes and software packages, Corporate Flight Management has deployed WSI Fusion as its flight tracking and weather planning management tool. Fusion allows us to make well-informed decisions and optimize our flight routing," said Leon G. Custers, Chief Operating Officer for CFM. "We selected WSI Fusion because of the constant, end-user-driven enhancements that WSI makes for the product. We believe that WSI Fusion will allow us to provide better service to our customers, while simultaneously reducing operational expenses."
Learn more about Fusion 4.0 at the WSI's Booth # C9213 and speak to Leon G. Custers, Chief Operating Officer for CFM, Monday, October 10, from 2:00 PM to 3:00 PM at the NBAA 2011 in Las Vegas, October 10-12.
Incorporating user feedback, Fusion 4.0 provides new, easy-to-understand, highly accurate and visually pleasing graphical presentations of weather events and conditions including:

High Definition (HD) Convective Weather Layers - including enhanced Radar, Vertically Integrated Liquid (VIL) and EchoTop mosaics. Most notably, the new EchoTop mosaic offers a four- fold improvement in spatial resolution that clearly shows the highest tops of greatest concern, improving confidence in route planning and decision-making.
North American Radar Mosaic – providing a comprehensive view of radar returns from Canada through the Caribbean. With a single click, a dispatcher can look at a consistent radar picture across North America without having the need to overlay multiple radar types.
Hot Storm Index – a WSI exclusive, deriving the potential impact of severe weather events including: hail, wind and tornadic signatures from raw NEXrad radar data. Detailed information is provided including historical trending of individual storm cells, allowing for a more detailed analysis of storm cell movement, growth and decay.
Fusion 4.0 also incorporates new operational efficiencies. These include:
Active SUAs (Special Use Airspace) - indicating which US Special Use Airspace regions are currently in use or reserved for the operational day, ultimately providing dispatchers and air traffic coordinators with the necessary information to optimize flight plan routes.
Expansion of Enterprise and Flight Planning Interfaces, including ETOPS Alerting – integrating customer data from external sources to enable optimal flight routing choices. This allows for a seamless process for the dispatcher to interact with Fusion in the flight-planning and flight-following workflows, simultaneously.
In addition, Fusion 4.0 offers additional, required-to-operate features including:
Ozone Forecasting – forecasting ozone levels at various altitudes and providing a clear interpretation and depiction of restrictions in accordance with FAA operational regulation limits set forth in FAR 121.578.
Solar Activity Forecasting – conveying aviation impacts on radio communication, solar radiation and navigational effects based on solar events.
Runway Visual Range (RVR) - providing real-time updates of runway visibility values necessary in instrument flight rule operations.
Regulatory High Level Significant Weather Layers (HighSig) - displaying ICAO-mandated forecast weather conditions such as depiction of jet cores traditionally used in the flight planning process.
Polar Projection – projecting flight position, routes and weather content in a perspective relevant for trans-polar operations.
Updated Web Based Training portal – an online training site including all of WSI's newest Fusion features. The training portal provides new users, as well as those customers upgrading to new versions, a complete set of self-service training modules to leverage the powerful features within WSI Fusion.
"Since the initial launch of WSI Fusion in 2007, we have continued to evolve advanced, yet easy-to-use tools to meet our growing customer base and its needs " said John Szatkowski, WSI Senior Product Manager for Commercial Aviation. " As the next-generation aviation workspace becomes more complex, Fusion 4.0 offers compelling visualizations that are unrivaled in the marketplace. The increased depth and breadth of our new Fusion 4.0 weather tools allow decision makers to gain a more accurate perspective of convective movements, including growth and decay of weather events."
WSI Fusion
WSI Fusion enables proactive operations management by providing early insight into changing flight, airfield and airspace conditions while streamlining the decision-making workflow. The solution combines global, public and proprietary weather information, airspace constraints, flight track information and navigation data, including NOTAMs, into a unified, clear operational picture, taking the guesswork out of situational decisions. Airlines benefit through improved operational efficiencies and safety, especially during potentially disruptive weather events.
About WSI Aviation
WSI, the most trusted weather decision support provider in the aviation industry, provides a proactive, aviation operation management suite ensuring common situational awareness and continuity in decisions through every phase of flight. WSI FusionTM is an integral component of this flight support solution, which includes WSI Pilotbrief® preflight planning and InFlightTM data link for pilots, as well as WSI HubcastTM terminal forecasts and alerting for airport stakeholders. WSI also operates a Global Forecast Center staffed by experienced aviation meteorologists who produce operational terminal and enroute forecasts globally.
About WSI
WSI (Weather Services International) is the world's leading provider of weather-driven business solutions for professionals in the aviation, energy and media markets, as well as multiple federal and state government agencies. WSI is a member of The Weather Channel Companies and is headquartered in Andover, Massachusetts with offices in Birmingham, England. The Weather Channel Companies are owned by a consortium made up of NBC Universal and the private equity firms The Blackstone Group and Bain Capital. More information about WSI can be found at http://www.wsi.com.
About Corporate Flight Management
Over the past three decades, Corporate Flight Management (CFM) has grown from a one employee, one airplane, charter firm to a global supplier of priority air transport, maintenance, FBO services, basic and advanced flight training, aircraft management, aircraft sales and acquisition). The firm has placed aircraft with operators on every continent. Currently CFM, headquartered in Smyrna, Tennessee, has 180 employees and operates a charter fleet of 23 aircraft based in the Central South and New England regions. For more information visit http://www.flycfm.com.
Contact:
Linda Maynard
WSI Corporation
978-983-6715
lmaynard(at)wsi(dot)com
Editorial Contact:
Barbara Rudolph
Rudolph Communications
781-229-1811
bjr(at)rudolphcommunications(dot)com
# # #