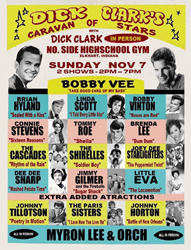 Most of artists inducted into the Rock and Roll Hall of Fame made their debut on American Bandstand.
SAN FRANCISCO (PRWEB) October 29, 2018
Avid collector, Andrew Hawley from Vintage Rock Posters, announces his search for original 1964 Dick Clark Caravan Of Stars jumbo window card concert posters. Clark, the nation's oldest teenager, used his American Bandstand TV show to introduce America's youth to rock and roll starting in the late 1950s. According to Hawley, "Dick Clark grew up in the radio business. He worked for his uncle's radio station in Rome, New York in the late 1940s. He was a disc jockey in college and believe it or not his show featured country music. In 1952, Clark took a job at a radio station in the Philadelphia area which had a TV station affiliate. Four years later, he got his break when a TV host could not make the show and Clark became the show's permanent host. His TV show, which later was called American Bandstand, was picked up by the ABC Television Network. American Bandstand debuted nationally in 1957. The show was an instant hit. Clark had a natural rapport with his teen audiences and introduced America to some of rock n' roll artist greats the 1950s to when he retired from the air in the late 1980s. Most of artists inducted into the Rock and Roll Hall of Fame made their debut on American Bandstand."
Hawley continues, "It was natural for Clark to parlay his TV success by promoting concerts across the nation. In the 1959, the first Caravan of Stars was launched featuring the top rock and roll artists of the time.  Chubby Checker, Duane Eddy, Bobby Darin, Fabian, Buddy Holly, Annette Funicello, Chuck Berry and Bo Diddley toured with the Caravan. Most of the shows were sold out. Jumbo window card concert posters were printed to advertise the show. Stock photos of each artists and bands on the tour were featured in a colorful layout. Top hits were listed below each picture." For examples of 1960s boxing style concert posters, go to [http://www.vintageconcertposterbuyer.com/boxing_style/index.html.
If you have an original Dick Clark Caravan Of Stars style concert posters, Hawley is willing to pay $5,000 cash for it. Any condition welcome. Please call 310-346-1965 or email andrew (at) vintageconcertposterbuyer.com.