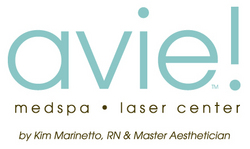 Everything You Ever Wanted to Know about Medical Spa Services
Leesburg, VA (Vocus) April 3, 2009
Kim Marinetto, RN, Master Aesthetician and Medspa visionary announced today that AVIE! Medspa and Laser Center is officially open for business at their Fort Evans Plaza II location in Leesburg, VA. AVIE! is under the Medical Direction of Betsy Vasquez, MD, Board Certified ENT and cosmetic medical specialist.
The name AVIE! was selected for its meaning: "To Life!", which reflects Kim's philosophy of improving the quality of life for her clients and community by offering life changing services that benefit both appearance and inner self.
Ms. Marinetto and Dr. Vasquez have been working together for more than a year to develop the advanced set of treatments that are offered at AVIE!, including Botox Cosmetic, fillers for facial lines and wrinkles, skin rejuvenation and resurfacing for a younger appearance, advanced acne treatments, photo facials to reduce sun damage and uneven skin tone, laser hair removal, and the treatment of dark eye circles, rosacea, and spider veins.. In addition, AVIE! is offering a medically supervised weight loss program to complement its service offerings and complete their program of enhancing their client's lives.
"Our entire team embraces the AVIE! philosophy of offering high quality medical spa services that enhance the inner/outer self providing a life changing experience." comments Kim Marinetto. Ms. Marinetto and Dr. Vasquez have assembled a top team of medical and aesthetic professionals dedicated to quality and safety of care combined with the comforts of a spa experience. "As Medical Director, I am confident that each treatment we offer will provide the highest level of results possible today," states Dr. Betsy Vasquez.
Kim Marinetto has over 20 years of experience as a Registered Nurse and in the past 5 years has focused her practice on cosmetic medicine, adding to her credentials a Medical Aesthetician Certification in 2006, along with additional certifications in Botox Cosmetic, Facial Fillers, Sclerotherapy and various advanced laser systems. Kim is a certified Master Aesthetician and is licensed with the state of Virginia.
Additionally, Kim has done extensive training on laser technology and her coursework is recognized by the AMA.
Dr. Vasquez graduated cum laude from Princeton University in New Jersey and received her medical degree from Albert Einstein College of Medicine in New York in 1986. She completed her residency in Otolaryngology-Head and Neck Surgery at Georgetown University in Washington, DC in 1992.
For a limited time, new clients may receive a free $50 Gift Card, with a complimentary consultation. The gift cards are valid toward any service at AVIE!. In addition, AVIE! has special Grand Opening offers available.
AVIE! is holding its Grand Opening Event, Thursday, April 23, 2009 at 6 p.m. This is a complimentary educational evening: "Everything You Ever Wanted to Know about Medical Spa Services" featuring wine & hors d'oeuvres, event-only special offers, drawings to win free laser treatments & facials, plus guests will received a very nice gift bag. Space is limited to 25 people - RSVP by calling: 703.737.0197.
About AVIE! Medspa & Laser Center:
AVIE! Medspa - Laser Center offers the latest in cosmetic medical spa treatments in a relaxing spa environment in Leesburg, VA. Spa Director and Owner, Kim Marinetto, RN and Master Aesthetician, in conjunction with Medical Director and Co-owner, Betsy Vasquez, MD and their highly skilled team provide specialized medspa programs so each of their client's needs are addressed on an individual basis with personalized follow-ups. Their treatments have minimal to no downtime. Services include: Botox, Juvederm, Microdermabrasion, Chemical Peels, Micro Laser Peels, Photo Facials, Skin Tightening, Pro Fractional Skin Resurfacing, Laser Hair Removal, Clinical Facials with Professional Skin Analysis and Medically Supervised Weight Loss. AVIE! also carries physician level skin care and make-up, as well as offering gift certificates for special occasions. Consultations are complimentary and financing is available. For more information about the upcoming opening, please call 703-673-9449 or visit http://www.AvieMedspa.com.
Contact: Kim Marinetto
AVIE! Medspa & Laser Center
Phone 703-737-0197
###