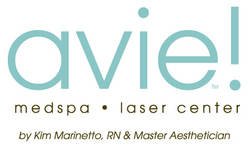 You have a finite amount of fat cells. With ProLipo™ no new fat cells are regenerated and you can finally have that body you've always wanted
Leesburg, VA (Vocus) December 8, 2009
Kim Marinetto, RN owner and Dr. Besty Vasquez, medical director at AVIE! Medspa and Laser Center in Leesburg, Virginia are helping their clients eliminate areas of unwanted fat with a FDA approved procedure called ProLipo™.
If someone has tried dieting and exercise, but areas of their body simply refuse to tone up then ProLipo™ Laser Body Sculpting, a revolutionary, minimally invasive treatment may be the solution with its ability to permanently destroy fat cells.
"You have a finite amount of fat cells. With ProLipo™ no new fat cells are regenerated and you can finally have that body you've always wanted", says Kim Marinetto. "With the ProLipo™ treatment there is an added benefit of skin tightening. ProLipo™ stimulates the production of collagen, resulting in smoother, tighter skin."
ProLipo™ is a laser-assisted lipolysis procedure like Smartlipo and is performed under local anesthetic (no general anesthesia is required). During the procedure a narrow cannula (tube) containing a laser fiber is inserted into the skin. The laser energy delivered through the fiber liquefies the fat cells. Simultaneously, dermal tissue around the area is heated, resulting in overall tighter skin tissue. Unlike traditional liposuction, ProLipo™ causes much less trauma to the tissue resulting in a much quicker recovery time. Typically patients are back to work within a couple of days and able to resume exercise after just two weeks.
"ProLipo™ is ideal to sculpt and tone those problem areas that have not responded well to diet and exercise", comments Dr. Betsy Vasquez. "ProLipo™ is very popular for tummy rolls, "double chin", inner and outer thighs and male breast reduction. It also works very well on saddle bags, jawline, arms, knees and buttocks. In most cases, only one treatment of just a few hours is required and patients start seeing results within a week with continued improvement over three to six months."
The cost varies depending upon the body part being treated. AVIE! Medspa and Laser Center is currently offering complimentary consultations for people interested in finding out if they too can benefit from this new procedure.
AVIE! MedSpa and Laser Center will be hosting a ProLipo™ Event on Thursday, January 7, 2010 at 6:30 p.m. Join Kim Marinetto and Medical Director Dr. Besty Vasquez and their team as they present ProLipo™. Space is limited to 25 people – RSVP by calling: 703-737-0197. And for those that can't wait until January call now for an immediate consultation and received their pre-2010 special offer.
About Kim Marinetto
Kim Marinetto has over 20 years of experience as a Registered Nurse and in the past 5 years has focused her practice on cosmetic medicine, adding to her credentials, a Medical Aesthetician Certification in 2006, along with additional certifications in Botox® Cosmetic, Facial Fillers, Sclerotherapy and various advanced laser systems. Kim is a certified Master Aesthetician and is licensed with the state of Virginia. Additionally, Kim has done extensive training on laser technology and her coursework is recognized by the AMA.
About Betsy Vasquez MD
Dr. Vasquez graduated Cum laude from Princeton University in New Jersey and received her medical degree from Albert Einstein College of Medicine in New York in 1986. She completed her residency in Otolaryngology—Head and Neck Surgery—at Georgetown University in Washington, DC in 1992. Diplomate, American Board of Otolaryngology-Head and Neck, Fellow, American College of Surgeons, Member, Medical Society of Virginia, and Medical Society of Northern Virginia.
Non-surgical and surgical Cosmetic Medical training for Dr. Vasquez include BOTOX® Cosmetic, dermal fillers and sclerotherapy from The Tozzi Institute of Medical Aesthetics in Palm Beach, FL, as well as Tumescent Liposuction and Laser Assisted Lipolysis by Dr. Gregory Alouf, M.D., PC of Alouf Aesthetics in Salem, VA. Dr. Vazquez's highly regarded medical practice—Loudoun Ear, Nose and Throat Specialists—is located in Sterling, Virginia.
About AVIE! Medspa & Laser Center:
AVIE! Medspa & Laser Center offers the latest in cosmetic medical spa treatments in a relaxing spa environment in Leesburg, VA. Spa Director and Owner, Kim Marinetto, RN and Master Aesthetician, in conjunction with Medical Director and Co-owner, Betsy Vasquez, MD and their highly skilled team provide specialized medspa programs so each of their client's needs are addressed on an individual basis with personalized follow-ups. Their treatments have minimal to no downtime. Services include: ProLipo™, ZERONA™ Botox®, Juvederm, Microdermabrasion, Chemical Peels, Micro Laser Peels, Photo Facials, Skin Tightening, Pro Fractional Skin Resurfacing, Laser Hair Removal, Clinical Facials with Professional Skin Analysis and Medically Supervised Weight Loss. AVIE! also carries physician level skin care and make-up, as well as offering gift certificates for special occasions. Consultations are complimentary and financing is available. For more information please call 703-737-0197 or visit http://www.aviemedspa.com.
###