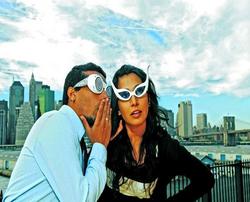 I think the nominee list will be an eye-opener for a lot of acts in Malaysia
Malaysia (PRWEB) March 11, 2009
Malaysia leads the way with 36 nominations in the final list of Asia's first independent music awards - Avima - with acts like Pop Shuvit, Estrella, Melissa Indot, Yuna and Altimet getting the major nods.
Top indie acts from the Philippines, Thailand, Singapore and Indonesia such as Thaitanium, Everybody Loves Irene, Up Dharma Down, Elemental Gaze, Electrico, The Out of Body Special, The Great Spy Experiment and Taken by Cars are also in the final cut.
The AVIMA 2009 nomination list was released recently by Voize.my, an Asian lifestyle and entertainment website.
There was a large number of nominations for acts from India, with electro-rock group Shaair and Func notching four.
Other major awards contenders are from China (Rhymebot), Japan (Jojouka), Hong Kong (Violent Jokes), UAE (Juliana Down) and Korea (Duonoreply).
The AVIMA 2009 awards will be held as a global web event on March 29.
"We're not the Grammys, and not even close to the glamour of the MTV Asia Awards, but Avima (Asia Voice Independent Music Awards) 2009 is perhaps one of the biggest supported music awards in the world," said Siva Chandran, founder of Avima and managing editor of Voize.my.
"In fact, with over 16 countries participating, it is definitely the biggest indie music awards in the world."
In the past three months, nominations came flooding in from China, India, Thailand, Singapore, the UAE, Brunei, Hong Kong, Philippines, Vietnam, Korea, Malaysia, Taiwan, Sri Lanka, Pakistan, Indonesia and Kazakhstan.
Added Siva: "It has been another painstaking round of judging (after VIMA, the first local indie music awards event successfully held on Jan 17 this year) for the team. It took almost a week to go through close to 1,000 songs."
"It was a mammoth task contacting more than 3,000 independent artistes, getting their song nominations and then filtering these down into their respective categories. What kept us going was the amazing talent we were exposed to during the judging process. The acts nominated for Avima are definitely of international standard. I won't be surprised if we see them charting in Europe and US soon," Siva said.
"Although, we were offered to take the event to Beijing and Manila, we realized we lacked the resources to manage it outside of Malaysia. So, we have decided upon a simple yet unique global web event - anyone around the world can just log in on their computers and watch the awards show on the day," he added.
"In the spirit of indie, we also want to prove that you don't need big money or major sponsors to pull off a major awards show," said Prem Anand, aka Premo, co-founder of Avima 2009 and project executive of Voize.my.
"More organizers around the world are seeking our advice on how we keep pulling off events on shoestring budgets. But then ... that's another story.
"I think the nominee list will be an eye-opener for a lot of acts in Malaysia," he continued. "So many acts in Indonesia and Philippines have moved away from the indie-rock/brit-pop style and are embracing more elements of electronica and experimental pop/rock. These days if it's not a fusion of genres, the act could end up looking and sounding quite ordinary beyond their own shores.
M. Tevan, also a co-founder of Avima, said: "We're glad that the Asian indie scene is moving in the right direction. The indie scene is huge in Britain, Europe and in the United States, and some of the biggest brands in the world today are lining up to be affiliated with these exciting and bold new artistes. We're confident with platforms like Avima and Vima, Asian indie acts will receive better global recognition."
The full list of AVIMA nominees can be viewed at http://www.voize.my
Global audiences will be able to log-in to an online voting site to listen to the songs and cast their votes (http://www.voize.my/awards.php). Thirty per cent of the songs will be via online voting and 70 per cent of the other scores will be decided by global judges from Europe, Australia and the US.
The nominees for the awards Album/EP Cover, Song of The Year and Thank You For Existing Becoz' Your Music Makes Each Day Worth Waking Up To will be announced before the event.
###