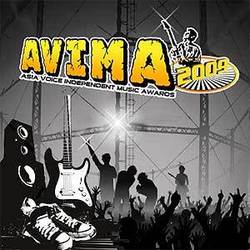 We wanted to do away with the formality of awards shows and decided to pit two adventure teams, using two cameras that captured their chase scenes through the streets of Kuala Lumpur, unearthing clues via celebrities who announce the winners while a clock challenges them to accomplish their task within 60 minutes. I t was a mammoth task coordinating and pulling this off in such a short time frame
Kuala Lumpur, Malaysia (PRWEB) April 1, 2009
History was made on the night of 29th March, when the winners of the first Independent Asian Music Awards, AVIMA 2009 were announced via a unique global web telecast. The big winners of the night were a super group collaboration entitled Project E.A.R, who walked away with the prestigious Song of The Year and Best Rock Song categories for the remixed version of the Pop Shuvit song "Marabahaya". Project E.A.R consists of indie acts from 5 countries - Saint Loco (Indonesia), Thaitanium and Silksounds (Thailand), Slapshock (Philippines), Ahli Fiqir (Singapore) and Pop Shuvit (Malaysia).
"It was such an open field, and in the end, there was really no clear cut winner of the night. It was amazing to witness indie acts like Motherjane from India take Best Rock act, yet, the Best rock vocalist went to Dia Hassan from UAE. And not surprisingly indie acts from Indonesia and the Philippines landed the highest number of AVIMAs, which we believe, boiled down to the fact that these are artistes who continue to evolve and innovate in the way that they approach and express their music." said Siva Chandran, founder of AVIMA 2009 and Managing Editor of Voize.my
In the true spirit of indie, the zany awards show was showcased like no other, combining the reality TV show style of the Amazing Race and the countdown clock ala "24". The awards show was beamed "live" via a studio from an undisclosed location and viewers from all over the world were able to watch the show via 2 live-stream sites courtesy of Pop Teevee and CGYnet from the Voize.my website.
"We wanted to do away with the formality of awards shows and decided to pit two adventure teams, using two cameras that captured their chase scenes through the streets of Kuala Lumpur, unearthing clues via celebrities who announce the winners while a clock challenges them to accomplish their task within 60 minutes. I t was a mammoth task coordinating and pulling this off in such a short time frame" said AVIMA co-founder M.Tevan.
"We had audiences from more than 30 countries logged on to the awards show from all over Asia, Europe, Australia and USA and this clearly showed the interest that has been generated by this amazing awards platform. We have already been approached by parties in Europe and other Asian countries to help organize more independent music awards show of this nature." said the director of the awards show, Premo.
Song Of The Year
Marabahaya (E.A.R version) - Pop Shuvit & Project EA.R (Thailand/Malaysia/Philippines/Singapore/Indonesia)
'Thank You For Existing Becoz Your Music Makes Each Day Worth Waking Up To', (Most Innovative and Inventive Indie Act)
Agrikulture (Indonesia) & Out Of Body Special (Philippines)
Best Rock Song
1. Marabahaya (E.A.R version) - Pop Shuvit & Project EA.R (Thailand/Malaysia/Philippines/Singapore/Indonesia) (Gold)
2. Archipelago-MRI (Philippines) (Silver)
3. Save our souls-Electrico (Singapore) (Bronze)
Best Rock Act(Group/duo)
1. Motherjane (India) - Gold
2. Pop Shuvit (Malaysia) - Silver
3. Ritmic-Traumatic (Indonesia) - Bronze
Best Rock Vocalist
1. Dia Hassan-Juliana down, (UAE) - Gold
2. Rithan - Deja Voodoo Spells (Malaysia) - Silver
3. Dave Tan - Electrico (Singapore) - Bronze
Best Pop/R&B Song
Naino sey - Sanjay Divecha (India)
Best Pop Act (solo or group)
Overload Romance (Indonesia)
Best Dance/Electronica Song
Funky Wah-Wah-Walking In The Moonlight (Thailand)
Best Dance Act(Group, duo)
Joujouka (Japan)
Best Dance Act (Solo)
CC Sound factory (Singapore)
Best Hip Hop Song
Poppin - Kraft & Jeevz (Malaysia)
Best Hip Hop Solo Act
Krishan (Sri Lanka)
Best Hip Hop Group
Thaitanium (Thailand) & Dice & K9 (Mobbstarr) (Philippines) (TIE)
Most Mind Blowing Music Video
Vivek Rajagopalan - Snake in the city (India)
Best Overall Female Vocalist
Armi Millare - Up dharma down (Philippines)
Genre Bending-Mindboggling-Out of this world Track!
Together again - Shaair and Func (India)
AVIMA 2009, organized by Voize.my, an Asian lifestyle and entertainment site has been dubbed the World's Biggest Indie Music Awards due to its support of 3000 indie acts from 16 Asian countries. The event was supported by Pop Teevee, CGYnet, Hitz.fm, XFM, The Malay Mail, Star Online, Malaysiakini, auspOp.blogspot.com (Australia), Indiecision.com (India) and Earth247.tv
###