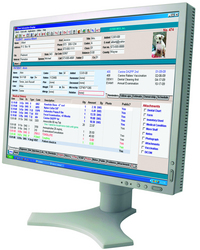 The goal of our annual user group meeting is to arm AVImark clinics with the tools they need to use AVImark veterinary software most effectively
Piedmont, MO (Vocus) June 23, 2010
In August, McAllister Software Systems, creators of AVImark veterinary software, will host its annual user conference in St. Louis, MO. Veterinarians can receive up to 12 RACE-approved C.E. credits for sessions ranging from basic AVImark skills to advanced practice management principles, such as optimizing practice value and profitability, boosting client compliance and education, paperless practice principles, and a sneak peak at future AVImark features.
"The goal of our annual user group meeting is to arm AVImark clinics with the tools they need to use AVImark veterinary software most effectively," said Scott McAllister, president of McAllister Software Systems. "This conference offers something for everyone, from practice owners to front-line staff. The comprehensive curriculum is designed to help users grow their business and enhance efficiency and profitability."
The three-day user group meeting will feature three tracks of sessions on a host of current topics, some taught by well-known guest speakers:

Optimizing profit and practice value, with Dick Goebel, DVM, division president of Simmons & Associates
Succeeding in the "New Normal" economy, with Karyn Gavzer, MBA, CVPM
Effective compliance and reminder strategies, with Bob Stevens, practice management consultant
Paperless practice essentials (including inter-office communications and electronic medical records)
Client marketing, communication, and education
Laboratory interfaces and integrations
Basic AVImark usage, including whiteboard, setup, and customization
The conference will run from Aug. 11 - 13 at the Ritz Carlton hotel in Clayton, MO. For more information or to register, contact the AVImark Training Department at 877-838-9273 option 4 or visit AVImark User Group Details.
About McAllister Software Systems
McAllister Software Systems, Inc., creators of AVImark, has been delivering industry-leading veterinary software since 1988. Today, AVImark has become the most popular, best-selling practice management software in the veterinary industry. Through award-winning training and technical support, McAllister helps practices reach their greatest potential by using AVImark to its fullest capacity. The company also offers other innovative products and services, such as MSS Data Vault, McAllister Payment Solutions, MSS IT Solutions, MSS Pet I.D. Cards, MSS Reminder Services, PetWise web site design and services, and Veterinary Wholesale Supply. Headquartered in Piedmont, MO, the company employs more than 140 people and offers products and services to 9,500 veterinary clinics in the United States, Canada and South Africa. For more information, visit http://www.avimark.net.
# # #