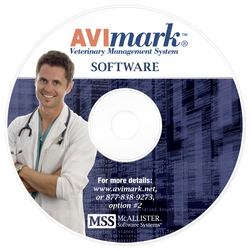 As we increased our usage and tried to take advantage of the full capacity of our software, we found that many capabilities required us to purchase additional packages
Piedmont, MO (Vocus) July 12, 2010
McAllister Software Systems, Inc. today announced the sale of the 10,000th copy of AVImark® practice management software. The software was purchased by Bear River Veterinary Clinic in Evanston, Wyoming, which selected AVImark because of its advanced features and ease of use.
Bear River began researching software programs when its current program became complicated and cost prohibitive. "As we increased our usage and tried to take advantage of the full capacity of our software, we found that many capabilities required us to purchase additional packages," said Dr. Eric Dent, one of three veterinarians at Bear River. "And these advanced features were incredibly cumbersome to use."
The Bear River staff contacted more than 50 veterinary clinics to ask which programs these clinics were using. Most were using AVImark and spoke highly of the veterinary software, which prompted Bear River to review the AVImark demonstration.
"Features that were very complicated in our old software were easy in AVImark and did not require the purchase of additional packages or modules," said Dr. Dent. "We only had to purchase one copy of the software, which was loaded on all seven of our terminals, including two laptops that we take into the field when treating horses and cattle." Bear River also purchased AVImark's annual technical support plan.
Aaron Rayfield, AVImark sales manager at McAllister Software Systems, said, "We're excited to add Bear River Veterinary Clinic to the global AVImark community. We believe that Bear River will immediately benefit from the robust features that AVImark offers, and we're committed to helping them use AVImark to its fullest capacity, so the practice can reach its greatest potential."
Veterinary practices interested in more information about AVImark can download a free demonstration at http://www.avimark.net/gtka/download-a-free-demo.
About McAllister Software Systems
McAllister Software Systems, Inc., creators of AVImark, has been delivering industry-leading veterinary software since 1988. Today, AVImark has become the most popular, best-selling practice management software in the veterinary industry. Through award-winning training and technical support, McAllister helps practices reach their greatest potential by using AVImark to its fullest capacity. The company also offers other innovative products and services, such as MSS Data Vault, McAllister Payment Solutions, MSS IT Solutions, MSS Pet I.D. Cards, MSS Reminder Services, PetWise web site design and services, and Veterinary Wholesale Supply. Headquartered in Piedmont, MO, the company employs more than 140 people and offers products and services to veterinary clinics in the United States, Canada and South Africa. For more information, visit http://www.avimark.net.
###