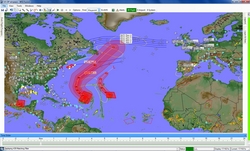 Andover, MA (PRWEB) October 12, 2010
WSI (Weather Services International) today announced Fusion 3.0, providing airport, airline and business aviation dispatchers/operators with a unified, powerful and comprehensive workflow-based aviation decision support tool.
Based on its highly successful Fusion application used by commercial operators around the world, including American Airlines, Southwest, Continental and Alaska Air Group, Fusion 3.0 is the result of WSI's close, user-feedback partnership with the business aviation dispatch community. In Fusion 3.0, WSI has consolidated the diverse data services needed to manage aircraft dispatch operations into a single, intuitive, workflow-based user experience with global weather and hazard alerting capabilities.
"Decision support for system operations control has been frequently referred to as 'management by exception,'" states John Szatkowski, Commercial Aviation Product Manager. "We recognize that in an increasingly data driven environment, a decision support application cannot simply convey raw data layers. WSI Fusion is a proactive operations management solution which must provide an integrated perspective of the information that allows rapid decision making. Just as one example, the new Fusion 3.0 tool alerts users of emergency diversions and enables the quick determination of a suitable airport for landing."
WSI has incorporated a significantly expanded Flight Details portal which goes well beyond the display of ASDI information. A dispatcher may review a dynamic route briefing including alternate airport data, if integrated. The routes tab displays a flight plan filed route, as well as all route amendments recorded for a flight, once airborne. A visualization of the flight's vertical profile and fuel burn down may be found on the profile tab. The design of this extensible interface allows for expansion of next generation products and services.
Airport Details has also expanded to include NOTAMS and a proprietary Air Traffic Management assessment of traffic flow management initiatives, airborne holding, and recent diversions. This aeronautical information management portal allows for interface extensions to include airport specific data as supplied by flight operations such as critical phone numbers, hours of operation and field conditions, among others.
This latest release streamlines core user preference workflows and view collections. A user can monitor airborne traffic in Europe and restrictions in the US simultaneously through the use of "View Collections", even using multiple monitors.
"The third major release of Fusion in as many years indicates how committed to providing best-in-class flight decision support tools WSI is," stated Mark D. Miller, VP and GM of WSI's Decision Support Group, "This release is the culmination of considerable human factors analysis, and incorporates the real world feedback from our numerous dispatch design partners, both in business aviation and at the airlines."
Learn more about WSI Fusion 3.0 at WSI's Booth # 6037 at NBAA 2010 in Atlanta, October 19-21.
About WSI Aviation
WSI, the most trusted weather decision support provider in the aviation industry, provides a proactive, aviation, operation management suite ensuring common situational awareness and continuity in decisions through every phase of flight. WSI FusionTM is an integral component of this flight support solution, which includes WSI Pilotbrief® preflight planning and InFlightTM datalink for pilots, as well as WSI HubcastTM terminal forecasts and alerting for airport stakeholders. WSI also operates a Global Forecast Center staffed by experienced aviation meteorologists who produce operational terminal and enroute forecasts globally.
Collectively, the WSI solution streamlines workflow and enables common weather situational awareness through all phases of flight, improving operational confidence, communications, flexibility and decisions among key flight stakeholders. The result is improved safety and efficiency.
About WSI Corporation
WSI (Weather Services International) is the world's leading provider of weather-driven business solutions for professionals in the aviation, energy and media markets, as well as multiple federal and state government agencies. WSI is a member of The Weather Channel Companies and is headquartered in Andover, Massachusetts with offices in Birmingham, England. The Weather Channel Companies are owned by a consortium made up of NBC Universal and the private equity firms, The Blackstone Group and Bain Capital. More information about WSI can be found at http://www.wsi.com.
For more information, please contact:
Linda Maynard
WSI Corporation
(978) 983-6607
Editorial Contact:
Barbara Rudolph
Rudolph Communications, LLC
(781) 229-1811
###