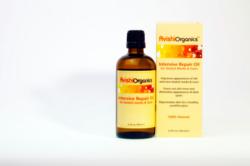 I have been using this stuff since February and I absolutely love it. It worked wonders on my itchy belly in my last stretch of pregnancy.
Bethesda, MD (PRWEB) April 26, 2012
This mother's day pamper the expectant mother in your life with a safe, effective and all-natural skincare oil that is tailor-made to address her unique concerns. Avishi Organics' Intensive Repair Oil for stretch marks and scars is a luxurious body oil that not only strengthens skin elasticity to reduce the possibility of stretch marks forming during pregnancy, but also effectively soothes that troublesome belly itch that most women experience in their third trimester. With the aroma of pure Lavender, Avishi's Intensive Repair Oil also does double duty as an indulgent massage oil that relaxes the body and mind, soothes muscles and helps instill a sense of tranquility.
"Pregnancy can be emotionally and physically exhausting. Hormonal changes can make a 9 month pregnancy feel like one long roller coaster ride. Add to that, an aching back, sore muscles, stretch marks, swollen feet and you've got a mama in serious need of some pampering. And what better day to make her feel special than on her very first mother's day," said Harmala Francois, mother to 1 stubborn toddler and CEO of Avishi Organics.
"I have been using this stuff since February and I absolutely love it. It worked wonders on my itchy belly in my last stretch of pregnancy. It was also a very important factor in my home birth experience. During the really tough contractions I had my doula and my husband alternate rubbing this oil into my lower back. It warmed my back and smelled very relaxing to me. Tyler actually started cracking up when I started whining for him to go get my "Avishi oil" right. freaking. Now," said Elisabeth Stone, a prominent mommy blogger, on her blog.
Made from pure botanical extracts and oils renowned for their powerful healing, nourishing and rejuvenating properties, Avishi's Intensive Repair Oil is not watered down by cheap fillers such as mineral oil nor does it contain any chemicals, colors, fragrances, parabens, or other toxic ingredients. It penetrates deeply and absorbs quickly without leaving a greasy residue.
Avishi's Intensive Repair Oil is available for purchase at http://www.avishiorganics.com. Take advantage of a special mother's day promotion till May 13th, 2012, and enjoy a 30% discount on your order when you use coupon code happymama30 at checkout.
About Avishi Organics
Avishi Organics develops all-natural, therapeutic skin care treatments for pregnancy, post-partum, mothers and babies that are free from chemicals, toxic substances, cheap fillers and other harmful additives. Avishi's products combine nature's finest and most powerful ingredients, renowned for their healing and regenerating properties, in high-performance, luxurious formulations that deliver maximum results in minimum time.