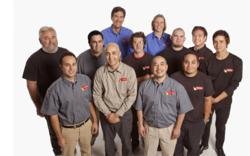 Client reviews on Yelp and other social media sites have been key to our rapid growth.
Los Angeles, CA (PRWEB) May 25, 2012
Avista Audio Visual Rentals & Services opened their 4th California office in April 2012. Headquartered in the San Francisco Bay Area, the company's 4th office in West LA is their first outside of the Bay Area. "We've had our eyes on the LA market since we started in San Francisco 6 years ago. Avista's grown rapidly in the Bay Area and we are very excited about the company's future in larger markets," says Avista Rentals co-owner, Doug Watson.
Overall operations for the company began in 2006 and they quickly expanded to three Bay Area offices. Avista is now a Northern CA leading provider of AV rentals and services including: projector rentals, audio equipment rentals, television rentals, and full service AV meeting support. Avista has also established itself as a regional provider of niche AV services including audience response voting and teleprompter services. The company provides audio visual equipment rentals and services to corporations, non-profit organizations and private events.
Avista differentiates itself with a steadfast commitment to customer service including fully disclosed website pricing, quick quotes, on-time delivery, 24/7 technical support and helpful employees. Avista offers a full range of equipment and support levels for do-it-yourselfers as well as high-end full service corporate clients. "We put our customer's event success above everything. Our dedication to stellar customer service for all clients has resulted in over 100 five star yelp reviews, fueling Avista's rapid growth at a time when most companies in the event industry have struggled to keep the doors open. We are proud of the company we have grown in Northern California and believe Los Angeles is the perfect next step," touts Carolyn Alexander, Avista's other co-owner.
Avista Audio Visual Rentals & Services new Los Angeles office is located off the 405 near Culver City at 11415 W Washington Blvd Los Angeles, CA 90066