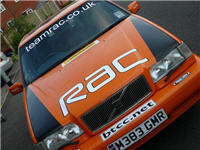 Norwich, UK (PRWEB) September 21, 2007
On 20 September, a team of Aviva colleagues are raising money for the Multiple Sclerosis Society in a charity rally, joining up against 160 other teams on an epic journey from Norwich to Rome, in a written-off Volvo 850 that cost them less than £100!
The group of four Aviva employees consisting of Matt Andrews, Robin Barker, Dan McLaughlin and John Gibbard, all based in Norwich, make up the team 'Last Chance Saloon'. All are keen motor enthusiasts and with the help of friends, family and donations from various organisations, have assembled the most unlikely rally car to drive from Norwich to Rome via Calais, Monaco, Venice, Bologna and Florence.
The requirements for team entry specified that the car:

Be acquired for under £100.
Be reliable enough to last the journey of 1500 miles (including mountain passes, urban jams and autoroute cruising)
Be comfortable for four (adult) men and kit for four days
Be entertaining to drive (note that this does not mean 'good' to drive)
The team managed to acquire their car from Bluecycle, the largest UK internet auction site for motor salvage. Previously the car had belonged to a Scottish couple in Inverness, before it was stolen and crashed into a fence, receiving write off status from insurer Norwich Union.
Last Chance Saloon has been fortunate to have been assisted by a number of organisations and individuals who were keen to offer team support. They have now managed to totally transform the once category D write off into a shipshape competition entrant, in full Team RAC British Touring Car livery.
Matt Andrews, from the Last Chance Saloon team, said: "After months of planning and hard work getting the car ready, we are all geared up and really looking to getting on the road. Although, we're not just doing it for the fun of it; we're doing it for the Multiple Sclerosis Society and to thank our supporters too.
"Multiple Sclerosis is the most common neurological condition in the UK, it can be very unpredictable, and there is currently no know cure. It has profoundly affected friends and family of members of the team, and we are proud to support an organisation which does so much to improve the quality of life for people with MS.
"We would like to thank everybody that has helped us make this happen, without the support of all of the different companies there we would never been able to raise money for The Multiple Sclerosis Society. It will be an incredible achievement in making it to the finish line, I just hope that I don't have to call out any of my RAC compatriots in France and Italy to come and pick us up!"
To find out more about the team, the car and the charity, and to track the team's progress during the event, please visit.
About RAC
With around seven million members, RAC is one of the UK's most progressive motoring organisations, providing services for both private and business motorists. Whether it's roadside assistance, windscreen repair and replacement, learning to drive, vehicle inspections and checks, legal and financial services or up-to-the-minute traffic and travel information - RAC is able to meet motorists' needs. RAC incorporates BSM, RAC Auto Windscreens, RAC Direct Insurance and HPI.
Aviva bought RAC in May 2005. The acquisition brings together RAC's powerful brand and customer base with the expertise and leading position in motor insurance of Norwich Union Insurance (part of Aviva). Norwich Union is the UK's largest insurer, insuring one in seven motor vehicles and with a market share of around 14%.
RAC's news releases and a selection of images are available from the internet press centre at http://www.racnews.co.uk.
###