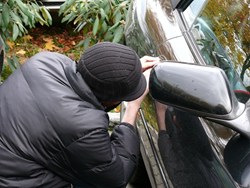 Drivers need to be particularly vigilant during this high risk period
(PRWEB UK) 8 December 2012
Cars left with valuable gifts inside and vehicles left unattended while owners are out celebrating are prime targets for criminals. At this busy time of year car owners can be distracted from simple things like vehicle security and, unfortunately, thieves who are seeking to take advantage of any security lapses may not share in the season of goodwill to all.
Police are urging motorists to lock up their vehicles and make sure they have removed all valuables from them when leaving the car unattended over the festive period. Incidence of theft from vehicles increases at this time of year.
Andrew Goulborn, Commercial Director for car insurance comparison site Tiger.co.uk, commented, "Drivers need to be particularly vigilant during this high risk period. Making sure that drivers have the right car insurance in place can provide peace of mind against risk of theft, but motorists need to ensure that they have the right level of cover in place too. There are also some simple preventative measures that we have listed here to remind people to be careful:
1. When leaving the car unattended, make sure you remove all valuables from your car including sat navs, laptops and mobile phones. Leave the glove compartment empty and open.
2. Do not leave anything on show in your vehicle, particularly any Christmas presents.
3. If you do not have them fitted as standard, get an immobiliser or alarm fitted and make sure they are set up properly.
4. If you do not have either an alarm or immobiliser, consider putting them on your Christmas list!
5. Take care in selecting where you park your vehicle. Try to avoid poorly-lit and deserted areas – find an area that is covered by CCTV cameras.
6. When shopping around for car insurance make sure you compare car insurance in detail by looking at the policy details to make sure you are adequately covered. Motorists can assume that theft from vehicles will be covered, but not all providers cover vehicle contents as part of a standard policy.
Making sure that you pay attention to things like this can help to avoid having to make car insurance claims this Christmas and New Year."
About http://www.tiger.co.uk:
Tiger.co.uk is a trading name of Call Connection Ltd. Tiger.co.uk is a UK based, independent car insurance comparison site, offering insurance quotes from over 150 motor insurance brands. Call Connection Ltd is authorised and regulated by the Financial Conduct Authority (number 308374).