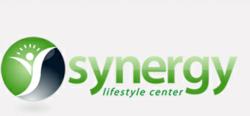 Sticking to these tips should put you and your body in a position to be right where you want to be just in time for swim suit season
Bakersfield, CA (PRWEB) November 17, 2012
Every holiday, Americans pack on the pounds. The average person will gain between 5-10 lbs. from now through January. The staff at Synergy Lifestyle Center wants you to feel comfortable in your own skin, and offers the following tips to avoid holiday weight gain.
1) Stay active –
The holiday season is the most stressful season of all year. Exercise helps you relieve stress and gives you an immediate sense of well-being rather than you reaching for food to relieve that stressful day.
2) Do not hover –
It is tempting to grab a chocolate chip cookie while engaging in conversations with your coworker around the food table. Try to socialize in a different room, away from the food table. This will make it easier to resist those holiday cookies and treats.
3) Eat before attending a holiday party –
Going to a holiday party hungry will only make you want to overindulge. By eating a healthy snack before you go to an event you will be less tempted to over eat.
4) Dress for appropriately for the cold weather –
Your body will crave more calories when you are constantly freezing in order to keep you warm. Proof to your body that you don't need that extra fat to keep you warm by dressing appropriately.
5) Pack a healthy snack when holiday shopping –
You spend all day at the mall and when your hunger strikes you smell pretzels, fatty burgers, pizza, etc at the food court. To avoid making unhealthy decisions pack a cup of fruit, veggies, or a protein bar. If you have a healthy snack in reach you are much less likely to end up at the food court.
6) Drink alcohol in moderation –
Alcoholic beverages contain anywhere from 100-400 calories. Drinking several of these high calorie drinks throughout the holiday season can add up to an additional 5 pounds.
7) Avoid food temptations –
Avoid bringing holiday treats to the office. This will only tempt you into eating some of your own treats. Instead opt for some sugar free gum when others eat their holiday sweets.
8) Slow down –
It takes 20 minutes for your brain to realize that you are full after your stomach has reached it's capacity. Slow down your eating process by setting your fork down every three bites (for at least 30 seconds). This allows your brain to realize that you are full when your stomach is.
9) Don't skip meals –
In order to keep your metabolism going you have to eat 3 (small) meals and snacks in between meals. When you start "skipping" meals or snacks, your metabolism slows down. You also get the feeling that you are starving" when you sit down to eat, which will likely result in overeating.
10) Hydrate –
Water is your friend! Drinking at least eight 8 once glasses of water each day can help you lose 5 pounds per year by giving your metabolism what it needs to function properly.
"Sticking to these tips should put you and your body in a position to be right where you want to be just in time for swim suit season," said Dr. Jan Trobisch of Synergy. "Weight gain during winter months is certainly common. It's also important to remember that you are not the average! People often mistake averages for normal—realistically holiday weight gain is significantly higher."
Synergy Lifestyle Center has been providing weight control solutions in Bakersfield, California with remarkable success. Synergy's program combines hard science and nutritional products to develop a personalized plan, no matter if patients want to lose 5 lbs. or 50 lbs. For more information, visit http://www.synergylifestylecenter.com/.
About Synergy Lifestyle Center:
Synergy Lifestyle Center, located in Bakersfield, CA, offers a comprehensive approach to Medical Weight Loss and Addiction Treatment that is tailored to your specific needs through the combination of various proven treatment methods.
Our highly trained professionals are standing by to improve your emotional and physical health. Find out for yourself and schedule an appointment at 661-878-9100 or contact Synergy Lifestyle Center at http://www.synergylifestylecenter.com/.