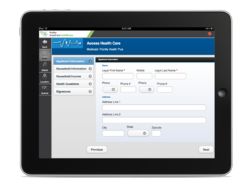 The Mobile Field Worker replaces clipboards and paper forms with Apple iPads, and Google Android or Windows tablets running SmartForms
Sydney, Australia and Denver CO (PRWEB) August 27, 2012
Avoka Technologies, a leader in helping organizations move their complex, paper-based business transactions online, today announced the availability of its new Mobile Field Worker solution. The Mobile Field Worker solution gives organizations a fast and easy way to replace the clipboards and paper forms used by their field force today with Apple iPads, and Google Android or Windows tablets running Avoka's powerful HTML, HTML5, or PDF-based SmartForm mobile data-capture applications.
"From a management perspective, it's obvious that the paper-based approach to running field operations is arcane, expensive and highly inefficient. Our Mobile Field Worker solution is Avoka's way of clearly demonstrating to organizations that there is a better way," said Philip Copeland, CEO of Avoka Technologies. "Efficient site visits, thorough and accurate data collection, and more effective relaying of that information back to headquarters –these are the things that are needed to advance field operations today. Our Mobile Field Worker solution delivers these capabilities and more."
The Mobile Field Worker solution is based on the Avoka Mobile Field Worker Client and the Avoka SmartForm Factory platform.
-SmartForm Factory is a platform that allows users with no programming or design skills to quickly build powerful HTML, HTML5, or PDF-based mobile data-collection applications that work in regular browsers and on mobile devices. With SmartForm Factory, simple paper-based forms evolve into electronic SmartForms that behave more like sophisticated data-collection applications. SmartForms have the interactive features that make mobile data capture quick, easy, and error free.

The Mobile Field Worker Client is an app that extends today's powerful tablet devices with mobile data-capture applications that are built using the SmartForm Factory. It significantly improves field worker productivity by ensuring that these applications are available anytime and anywhere - with or without a network connection. The app can be downloaded from the Apple App Store for Apple iPads, Google Play for Android tablets and the Windows Store for Windows 8 tablets.
"This solution is unique in how it ties together existing technology infrastructure, corporate systems, and mobile devices to deliver ground-breaking capabilities," said Howard Treisman, CTO of Avoka Technologies. "Tablets, wireless networks, back-office system integration, GPS, and multimedia can now all be easily leveraged by these secure and intelligent mobile data-capture applications. This solution ensures efficient operations starting at the field worker's fingertips and running straight through to the back office."
Mobile Field Worker Solution – A Closer Look
In many functional areas – including sales, service, inspections, and audits – the vast majority of field workers are still bogged down by paper forms and paper-driven processes. The inefficiencies and high costs of paper continue to be a significant drag on the performance of these teams, and on their organizations' bottom line results. The Avoka Mobile Field Worker solution solves this problem by providing smart, cost-effective, and elegant mobile data-capture capabilities.
With the SmartForm Factory guiding them through the process, staff members from the business side can create, deploy and manage the mobile data capture applications they need – with no programming required, and without involving developers or IT staff. With SmartForm Factory's array of pre-built components, configurable templates, style sheets and wizard-based business logic, non-technical users can create sophisticated data capture applications in a matter of hours.
SmartForm Factory-built applications support all the elements traditionally required in enterprise software, including security, data validation, electronic signature capabilities, presentation logic, business rules, and payment systems. They are also easy to integrate with back-office systems.
About Avoka Technologies
Avoka Technologies is a leading provider of solutions that enable organizations to transform their complex, paper-based business processes into powerful online user experiences that make data collection fast, simple, and easy. Our award-winning solutions let organizations quickly create and deliver the cross-device, consumer-like online experiences that their customers want and expect while also providing the scalability, security and controls that their IT departments need. Founded in 2002, Avoka is headquartered in Sydney and maintains offices throughout Australia and North America, and in Europe.