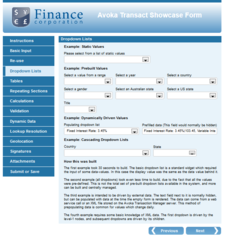 Avoka Transact is the industry's first Transaction Experience Management (TxM) platform
Sydney Australia; Broomfield Colorado (PRWEB) February 13, 2013
Avoka Technologies today announced its intention to focus on the critical Point of Impact where individuals engage with organizations at the digital edge. Transaction Experience Management systems allow Insurance, Banking, Government, Utilities, Telecommunications, Health Care, Education, and organizations in other industries to migrate business transactions to the online channel when eCommerce platforms are unsuitable
US consumers spent over $200bn in eCommerce transactions in 2012, but this is just 2% of total household expenditure. The growth in smartphones and tablets combined with the convenience of eCommerce for retail has created a demand for an all-digital experience for as much of the remaining 98% of expenditure as possible.
As a result organizations are faced with the challenge of delivering engaging, device-aware transaction experiences that drive growth and deliver operational efficiency. The challenge is significant because unlike eCommerce, these transactions often require capabilities such as signature capture, completion by multiple individuals, electronic forms, mobile forms, save and resume, and more. Without a TxM platform to deliver these capabilities, an organization's only choice has been expensive custom application development.
This is why most organizations today continue to do business through paper forms, the call center, or the branch office for all but the highest volume transactions that justify the custom application development costs.
Avoka Transact (formerly Avoka SmartForm Factory) is the solution to this problem," said Philip Copeland, CEO of Avoka Technologies. "In order to grow, organizations must be focused on not just what they offer, but how they offer it. Avoka Transact has been enabling organizations to quickly give their customers the ability to transact online, using the device of their choice, for the past five years. The depth of functionality built in to Avoka Transact from the experience of hundreds of client projects means we can deliver results to clients in days."
Avoka Transact is the industry's first Transaction Experience Management (TxM) platform. It is an enterprise platform that gives organizations the tools and services they need so that their:
− Customers get an optimized digital experience for desktops, tablets, and smart phones
− Business teams can create and deploy powerful transactions without writing code
− IT department can manage and control all aspects of the transaction experience
Avoka delivers unmatched time-to-value by managing and optimizing every aspect of the customer's transaction experience, from transaction creation and deployment, to data collection, and to the analytics that complete the transaction cycle
To find out more visit us at http://www.avoka.com
About Avoka
Avoka, founded in 2002, is a leader in Transaction Experience Management, allowing public sector and commercial organizations to deliver convenient, engaging, device-aware transaction experiences that drive growth, operational efficiency, and improve the quality of the information that flows into their business systems.