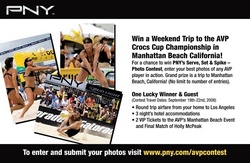 We are excited to have PNY as an official AVP sponsor for this special season, which marks our 25th anniversary as well as three-time Olympian, Holly McPeak's final tour
PARSIPPANY, N.J. (PRWEB) July 10, 2008
"We are excited to have PNY as an official AVP sponsor for this special season, which marks our 25th anniversary as well as three-time Olympian, Holly McPeak's final tour," said Leonard Armato, Commissioner and CEO of the AVP. "The PNY brand is a great fit for the AVP and fans of pro beach volleyball stars."
The PNY Serve, Set and Spike photo contest will award one lucky winner and a guest:
Round trip airfare from the winner's hometown to Los Angeles; Three night's hotel accommodations; and Two VIP tickets to the AVP's Manhattan Beach Championship and Holly McPeak's final hometown match. "The 2008 AVP Crocs Tour provides an excellent opportunity to showcase the PNY brand among volleyball enthusiasts, professional athletes and photo enthusiasts," said Tony Gomez, vice president, sales and marketing for PNY. "Our flash media cards are a perfect complement to be given away during all the tour events, so fans can take as many pictures of their favorite AVP players to submit for the contest."
Highlights of the partnership also include PNY Technologies sand-level signage at AVP Crocs Tour events, Internet presence on AVP.com, center-court promotions, as well as local radio event ticket giveaways and other PNY product giveaways throughout the tour.
Fans can catch the action and capture award-winning photos of AVP players at these upcoming events:
July 11-13 – Chicago, Ill.
July 18-20 – Brooklyn, NY
July 25-27 – Long Beach, Calif.
Aug. 1-3 – San Diego, Calif.
For additional Serve, Set and Spike contest details, please visit http://www.pny.com/avpcontest. For more information about PNY Technologies, please visit http://www.pny.com.
About PNY Technologies
Established in 1985, PNY Technologies® Inc. is a leading manufacturer and supplier of memory upgrade modules, high capacity flash memory cards, USB flash drives, portable hard drives as well as consumer and professional workstation graphics cards. The company's photography, mobility, 3D gaming and business solutions are widely available from major retail, e-tail and wholesale outlets internationally. Headquartered in Parsippany, N.J., PNY maintains facilities in North America (Santa Clara and Orange County, Calif., Miami, Fla. and Parsippany, N.J.), Europe (Benelux, France, Germany, Italy, Norway, Spain, United Kingdom,) Asia (Taiwan and China) and Latin America.
About AVP, Inc.
AVP, Inc. is a leading lifestyle, sports entertainment company focused on the production, marketing and distribution of professional beach volleyball events worldwide. One of the fastest growing entities in the sports world, the AVP operates two of the industry's most prominent national outdoor touring series, the AVP Pro Beach Volleyball Tour (1983) and the AVP Hot Winter Nights Indoor Tour (launched in 2008). The AVP is set to stage more than 35 events throughout the United States in 2008 and features more than 150 of the top men and women competitors in the sport. At the 2004 Athens Olympics, AVP athletes representing the United States won gold and bronze. The medals were the first won by the U.S. women in professional beach volleyball, and the 2007 World Champions in each gender are AVP athletes. AVP is headquartered in Los Angeles, and the company's stock trades under the symbol AVPI on the OTC Bulletin Board. For more information, please visit http://www.avp.com.
Forward Looking Statements
Some of the information in this press release may contain projections or other forward-looking statements regarding future events or the future financial performance of the Company. We wish to caution you that these statements involve risks and uncertainties and actual results might differ materially from those in the forward-looking statements, if we receive less sponsorship and advertising revenue than anticipated, or if attendance is adversely affected by unfavorable weather. Event-related expenses, such as for the stadium, transportation and accommodations, or security might be greater than expected; or marketing or administrative costs might be increased by our hiring, not currently planned, of a particularly qualified prospect. Additional factors have been detailed in the Company's filings with the Securities and Exchange Commission, including our recent filings on Forms 10-KSB and 10-QSB.
MULTIMEDIA GALLERY http://www.businesswire.com/cgi-bin/mmg.cgi?eid=5728700