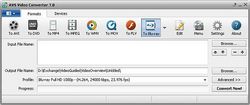 Tatyana Danilova, PR Manager, Online Media Technologies Ltd.: "We decided to focus on multiformity and tastes diversity. So many devices, so many presets, video formats and features AVS Video Converter 7.0 has.
(PRWEB) September 20, 2010
With AVS Video Converter 7.0 release, Online Media Technologies Ltd. starts a new generation of the Windows program that includes so many formats and video presets that it caused the need to divide the interface into several tabs.
Under the Devices tab there is a long row of icons for a list of worldwide popular devices and gadgets such as Sony PSP, Nintedo, Blackberry, iPhone, iPod, devices with Android OS, Palm, Sandisc, etc. Each icon, in its turn, hides a row of presets that combine video formats, video quality requirements, aspect ratio, etc. for various models of one device. No need to page user guides or surf the Internet to find out what format and what aspect ratio your device supports. AVS Video Converter 7.0 already knows all technical characteristics for more than 100 devices and adjusts initial video files for them.
The Formats tab has an extended list of formats. A user can find here anything from A to Z, from AVI, MPEG, DVD to WebM, SVI, TRP, etc. The engineers of Online Media Technologies Ltd. state that their aim was to include on the list not only the most popular formats but also the most exotic ones.
For active Internet users, the developers of AVS Video Converter 7.0 introduced the functionality for uploading the converted video to popular social networks such as Facebook, Flickr, MySpace, etc. directly from the program interface. For bloggers and site owners, new AVS Video Converter generates HTML-pages with an embedded Flash-player that can be built into personal blog pages and sites.
The video overview for AVS Video Converter 7.0 is available at http://www.youtube.com/avs4you#p/c/88C2A1092DD78BCA/17/R0coGzRhDGs.
AVS Video Converter 7.0 is an integral part of AVS4YOU software suite. The trial version of AVS Video Converter can be downloaded and tested for free at http://www.avs4you.com. Purchase of AVS Video Converter 7.0 provides access to all multimedia tools under AVS4YOU brand. Online Media Technologies Ltd. offers two subscription plans: one year subscription for 39 USD or unlimited lifetime subscription for 59 USD.
Notes for editors:
Founded in 2004 and based in Harley Street, London, Online Media Technologies Ltd. is an IT company that specializes in developing software products for video-, audio-, and image processing that simplify the work of end-users and professional content developers as well. All software products under AVS4YOU brand can be found on the official website http://www.avs4you.com.
# # #