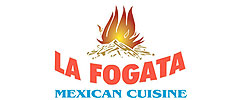 San Antonio, TX (PRWEB) June 11, 2013
La Fogata, Mexican Restaurant, is excited to announce three great events they will be hosting in June. They will be celebrating Father's Day on June 16 and will have special margarita tasting events on June 15 and 29.
Give Dad the gift of a fantastic meal at La Fogata for Father's Day. La Fogata is featuring a delicious entrée of a 10-ounce T-bone steak, served with Mexican rice, borracho beans and a special salad made with Mexican cactus (Nopalitos), onions, tomatoes, cilantro, avocado slices and queso fresco.
All month long, La Fogata is featuring Cabo Wabo Tequila, Blanco, Reposado and Añejo. They are mixing up Blood Orange margaritas made with Cabo Wabo Silver Tequila, Solerno Blood Orange liqueur and fresh lime juice. They have a skinny margarita made with Cabo Wabo Silver Tequila, fresh lime juice and agave nectar. They also have a Fresca margarita made with Cabo Wabo Silver Tequila, premium orange liqueur and fresh lime juice.
Customers will be able to have a sample taste of one of these margaritas on June 15 and June 29 between 7– 8:30 p.m.
Also for June, La Fogata has an appetizer they are introducing as a limited item, Campechana. Campechana is a combination of La Fogata's own fish ceviche recipe and shrimp cocktail.
Stop into La Fogata today to try a margarita made with their featured tequilas. Don't buy Dad the same boring old gifts this year; instead bring him out to La Fogata on Father's Day for a fantastic dinner.
To check out La Fogata's full menu, please visit their website.
About the company:
La Fogata brings San Antonio and the surrounding area the traditional flavors of Mexican cuisine with old world recipes handed down from generation to generation. La Fogata is a great place to stop in for lunch or dinner, for catering, and even for throwing a party in one of their party rooms.
Known for their award winning margaritas, the best salsa, their outdoor dining, and live Mariachi music, La Fogata is one unforgettable Mexican restaurant. They pride themselves on offering only the highest quality Mexican cuisine in a lively, upbeat atmosphere to give their patrons an exceptional dining experience time and time again. For more information, visit their website http://lafogatatx.com.