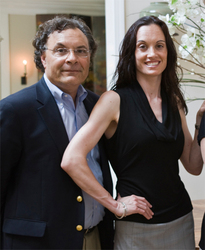 My daughter Gina and I are deeply honored to have received these awards
New Hope, PA (Vocus) September 16, 2010
Gina and Jay Spaziano of Addison Wolfe Real Estate, New Hope, PA, have each been awarded Five Star Real Estate recognition. The highly-prized awards were announced in Philadelphia Magazine's September issue. Based on survey results of recent home buyers, the ratings help future buyers and sellers identify those professionals who have scored the highest in overall satisfaction. The resulting list of Five Star Real Estate Agents is an elite group, representing less than two percent of licensed agents in the Philadelphia area.
"My daughter Gina and I are deeply honored to have received these awards," said Jay Spaziano. "This is definitely one of those 'feel good' moments, knowing this award is the result of our clients' input." Spaziano, who has has built an impeccable reputation throughout his 32 years in real estate, continued, "Longstanding relationships, built on mutual respect, commitment and trust, are the core of our success."
Not surprisingly, this dedication and talent runs in the Spaziano family, as evidenced by double award recognition: one for Jay, and another for his daughter, Gina. "We are thrilled! This recognition means a great deal to us because it comes from our clients, and real estate trade professionals," said Gina Spaziano.
About Jay and Gina
The Spaziano's deep well of knowledge, high-powered enthusiasm, unmatched attention-to-detail, and world-class service have led to a history of decidedly satisfied clients. Not content to rest on their laurels, Jay and Gina continually expand their expertise and client services through ongoing education, cutting-edge technology and savvy marketing. Jay, a licensed broker and real estate appraiser, has been a consistent winner. In 2008 and 2009 he was named #1 Producing Agent in Bucks County by Trend Statistics. Jay is a graduate of La Salle University and a member of the Institute of Residential Marketing, Graduate Realtors Institute, and an E-Pro Internet Marketing Specialist, conferred by the National Association of Realtors. Gina, a PA licensed real estate agent, has a Bachelor of Science degree, Psychology, from The College of New Jersey, and a Master of Science degree, Psychology, from Barry University. During her five years in the real estate industry, she has specialized in assisting first-time home buyers and sellers in the Philadelphia market. In 2007, the Building Industry Association of Philadelphia honored Gina with the Rookie Sales Person of the Year Award.
About the research
The ratings, based on an independent survey conducted by Crescendo Business Services and QMI Research, use objective market research methods to measure direct client satisfaction and industry professional input. The survey identifies those real estate professionals who have scored the highest in nine criteria: customer service, communication, finding the right home, integrity, negotiation, marketing the home, market knowledge, closing preparation and overall satisfaction. During the process, Crescendo surveyed all Philadelphia area residents who purchased a home over $200,000 from May 2008 to November 2009. Also included were 20,000 subscribers of Philadelphia Magazine. Additionally, 250 mortgage and title companies were surveyed for their unique ability to judge a real estate agent's technical skills and knowledge. On the surveys, recipients were asked to evaluate only real estate agents whom they knew through personal experience.
# # #